18-wheelers overturn during Monday's severe storms
DALLAS - Severe weather including possible tornadoes hit North Texas Monday evening.
FOX 4 viewer John Stevenson captured what appears to be a funnel cloud touching down just outside his home in Johnson County, south of Fort Worth near Rio Vista. Richard Hoeppner shared a photo of the same possible tornado.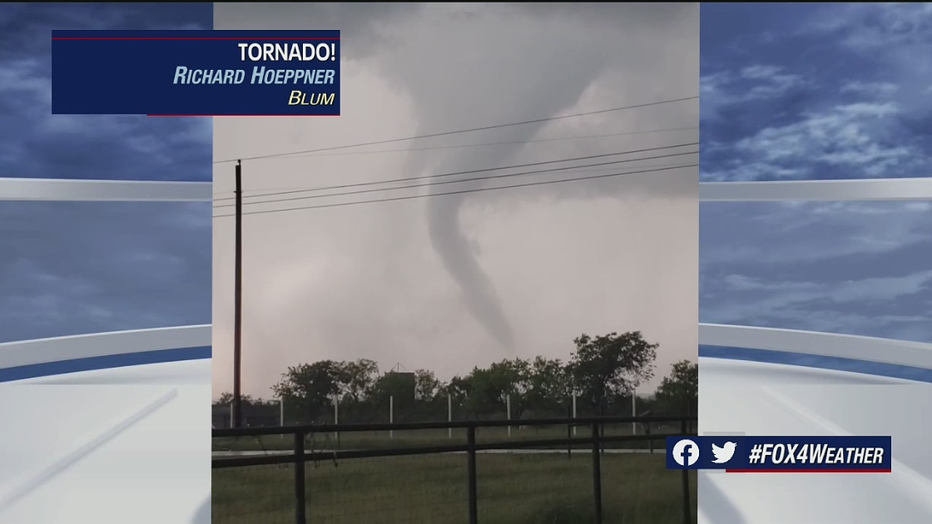 Hours later another possible tornado may have tossed several 18-wheelers on Interstate 35E in Waxahachie, south of Dallas. 
Video shows the big rigs on their sides after being blown over. All lanes of the interstate were temporarily shut down while first responders worked to clear the damage and rescue drivers from the wreckage. 
The Texas Department of Public Safety said all three drivers were taken to the hospital and one may have died.
People who were stuck in the backup said they were lucky to avoid getting caught in the storm.
"I mean, I'm just glad we weren't 10 to 15 minutes faster than what we were because we would've been in the mix of all that too," said Todd Archer, who was driving on I-35E at the time.
It not clear yet if the 18-wheelers were tossed by a tornado or straight-line winds.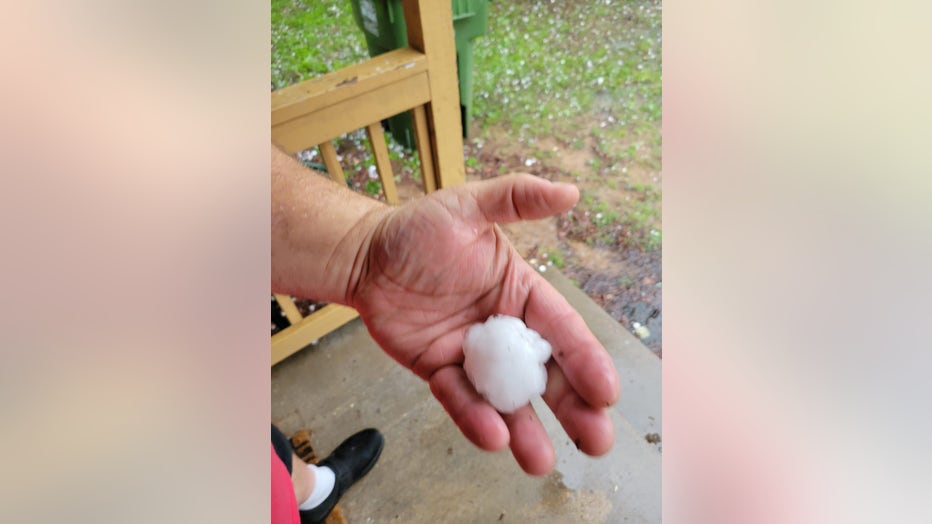 Hail in Azle, Texas (Photo: Lori Blanton)
Hail was reported all across North Texas with Monday night's storms -- some widespread small hail and scattered reports of large hail.
The outdoor warning sirens went off in Frisco. The fire chief reports hail falling there that was larger than one inch in size. It doesn't appear anything touched down, but winds did cause some damage.
In Carrollton on Greenstone Trail, neighbors said the storm came and left all in less than10 minutes. But it was enough time to snap a large tree limb off landing all the way across the street and barely missing a car. 
Within minutes, tree trimmers and Carrolton police show up to take care of the debris. 
"I was inside on the house on the computer and the winds came up and was severe for about five minutes," said Dennis Johnson. "And then I heard a crack and then my neighbor called me and said, 'Do you need a chainsaw? And I was like why would he asked me that? So I went outside and saw this laying in the street."
In Dallas County, a possible downburst caused by a severe storm caused some minor damage.
Several thousand power outages are being reported. Oncor reports the most in Collin County where 2,000 are without power, about 1,600 in Tarrant and about 300 in Dallas and 300 in Denton counties.      
For weather updates and alerts, follow FOX 4 Weather on Facebook and Twitter. Download the FOX 4 WAPP for watches and warnings, live weather updates and to keep an eye on the radar.