Dallas Cowboys become 1st NFL team to have sponsorship with crypto company
FRISCO, Texas - Cowboys owner and general manager Jerry Jones announced a partnership with blockchain.com, provides tools for cryptocurrency transactions.
The Dallas Mavericks inked their own deal with a cryptocurrency brokerage last year, but the Cowboys made NFL history by partnering with a digital currency company. 
"I am here to announce we are making an association in what I believe is a huge looksee into the future of how things are going to be in the future," Jones said.
Cryptocurrency is a quickly growing industry, and now the Cowboys are taking part in the action by becoming the first team in the NFL to create a sponsorship with a crypto company.
"Our goal is to partner with the Dallas Cowboys on helping the world understand cryptocurrency and the future of finance," blockchain.com CEO and co-founder Peter Smith said.
The company has been around for about 10 years, and this is their first sponsorship with a professional sports team. 
The iconic Staples Center in Los Angeles is now Crypto.com Arena. 
Smith said his focus is on fan interaction, not naming rights.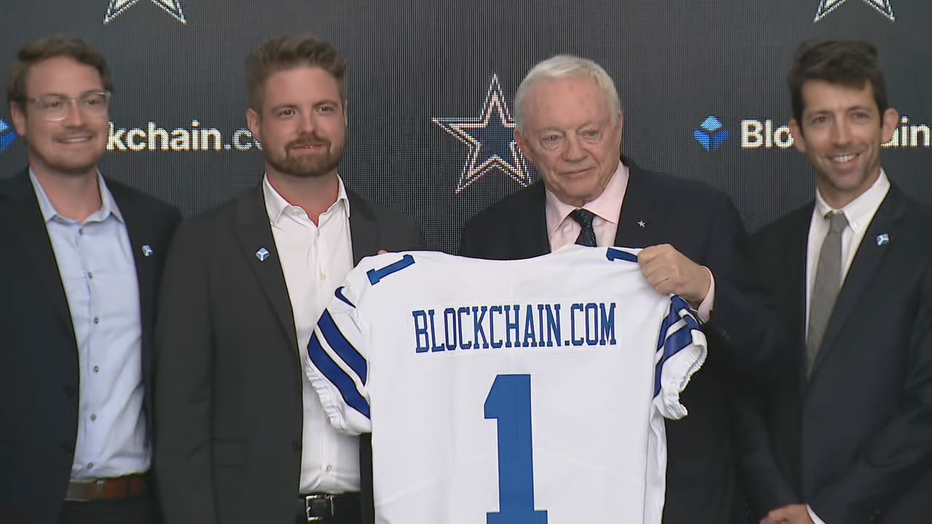 "I am much less interested in stadium deals, for me the game is inside the stadium," he explained. "I care a lot about what fans see when they are sitting in the stadium, the QR code on the chair in front of them, what is behind the end zone, the fan experience that we are creating."
Last month, President Joe Biden signed an executive order directing government agencies to research cryptocurrency and the potential role the federal government might have in regulating it. 
RELATED: Biden to sign executive order on cryptocurrency this week
The Federal Reserve is also exploring the possibility of issuing its own digital coin.
"That our economy would consider also adding a digital dollar, I think, is a huge endorsement to the technology," said, Ian Mcginley, who is a partner at Akin Gump.
Last year, the Dallas Mavericks partnered with cryptocurrency trading app Voyager.
RELATED: Dallas Mavericks announce cryptocurrency brokerage deal with Voyager
The Mavs also accept dogecoin for tickets at games. 
Jones said the partnership is about the future and the evolution of currency. 
As for when fans can use crypto in AT&T Stadium this season, Jones said that's still being talked about.
"Not at this time. The league, just in our last league meeting, set up some parameters for clubs to operate. That's why we immediately made this announcement public," he explained.
Jones was also asked about if players can use get part of their salary in digital currency. He said the NFL is still learning about the new form of currency.
MORE: Dallas Cowboys Coverage