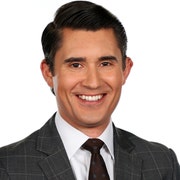 Blake Hanson
Anchor/Reporter
Blake Hanson is a reporter and weekend evening news anchor at Fox 4 News. He joined the station as a reporter in July 2017.
Blake is a proud Minnesotan but "Texan-by-marriage". His wife grew up in Wylie. The two met in the journalism school at the University of Missouri. They married at White Rock Lake in 2016. The two are proud parents to a Dutch Shepherd "Roux" and a hefty cat "Dakota".
Blake became passionate about journalism in high school when watching the work of great writers like Bob Dotson, Boyd Huppert and Steve Hartman. His first full-time reporter job was in New Orleans where he got bit by the "hard news" bug. Blake covered Hurricane Isaac, a power outage that plagued a Super Bowl, as well as the federal corruption trial of a former New Orleans Mayor.
Blake went on to work in Charlotte, North Carolina. His investigative reporting led to the proposal of news laws, exposed that a county wasted tens of thousands of dollars on a security program never implemented & shed light on a local gang with ties to the U.S. Military. He was also a beat reporter covering federal law enforcement and broke dozens of stories on terrorism, espionage and Ponzi scheme cases.
Blake is always looking for the next big story. He can be reached by email at Blake.Hanson@fox.com, via Facebook at facebook.com/BlakeHansonTV and/or via Twitter at twitter.com/BlakeFox4News.
The latest from Blake Hanson