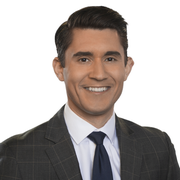 I married my wife with White Rock Lake as the backdrop in 2016. Little did I know I would return to Dallas the following summer to call it home. 
I am a proud Minnesotan but "Texan-by-marriage". My wife grew up in Wylie. We met in the journalism school at the University of Missouri. 
Journalism has been a passion of mine since I was a kid. I first fell in love with writing after seeing the works of feature storytellers like Bob Dotson, Boyd Huppert & Steve Hartman. While writing led me into a business it was hard news and investigative reporting that solidified my love for the job. 
My first job out of school landed me in New Orleans. I covered the federal corruption trial of a former New Orleans mayor, Hurricane Isaac and the infamous power outage at the Super Bowl. I also got my first taste of investigative reporting while exposing allegations of problems at an area police department. The Associated Press awarded me 2nd place for its Reporter of the Year competition. I was also part of a team that won a regional Edward R. Murrow Award for coverage of the return of a disabled cruise ship.
Most recently, I was a reporter in Charlotte, North Carolina. My investigative reporting there led to the proposal of new laws, exposed a county wasted tens of thousands of dollars on a security program never implemented & shed light on a local gang with ties to the U.S. Military. I was also the beat reporter covering federal law enforcement and broke dozens of stories on terrorism, espionage and Ponzi scheme cases. 
I like complicate stories but I know great writing is always simple. 
When I'm not reporting you may bump into me out with our Dutch Shepherd mix "Roux". 
Email me your news tips at Blake.Hanson@foxtv.com, find me on Facebook at Facebook.com/BlakeHansonTV or follow me on Twitter @BlakeFox4News. 
The latest from Blake Hanson
Texas Lieutenant Governor Dan Patrick is now feuding with another major GOP donor over gun laws.
The Fort Worth ISD school board will make its decision within ten days about Georgia Clark's future with the district.