What you need to know about the Takata air bag recall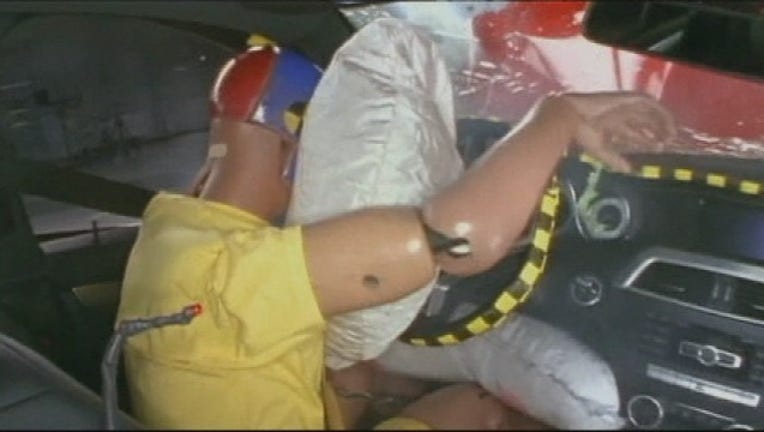 article
By DEE-ANN DURBIN
AP Auto Writer
DETROIT (AP) -- A recall of air bags made by Japanese auto parts supplier Takata Corp. now has the dubious distinction of being the largest in U.S. history.
The number of vehicles in the U.S. being recalled because of the defective air bags is doubling to 34 million, safety regulators said Tuesday.
Here are some facts about the recall:
------
Q: What is wrong with Takata air bags?
A: The driver and passenger-side air bags can inflate with too much force, blowing apart a metal canister and sending shards flying at drivers and passengers. The defect has caused at least six deaths and more than 100 injuries worldwide. Takata, automakers and the government are still trying to pinpoint the cause of the problem, but are prioritizing repairs in humid climates, because Takata believes longtime exposure to high humidity can be a factor.
------
Q: Which automakers are involved and how many cars are affected?
A: Honda has the most vehicles equipped with Takata air bags. Dozens of models made by BMW, Chrysler, Ford, General Motors, Mazda, Mitsubishi, Nissan, Saab, Subaru and Toyota dating to the 2001 model year are also affected.
------
Q: How do I find out if my car is affected and, if so, what should I do?
A: If your car's air bag is being recalled, you should receive a recall notice from the automaker. Automakers also have recall home pages with information for customers. Or, you can go to the government's Takata page, http://www.safercar.gov/rs/takata/index.html , and key in your vehicle identification number, which normally is printed on the registration and stamped on the dashboard. It could take a few weeks or longer for the latest recalled vehicles to appear on the websites. You can also call your dealer. Dealers will replace the air bags for free as parts are available.
------
Q: Will there be enough parts to get my car fixed?
A: At current production rates, it would take about 2 1/2 years for Takata to make the 33.8 million inflators needed to fix all the cars involved in the recall. Takata said Wednesday it has made 3.8 million so far. The company says it's making 500,000 inflators per month with plans to produce up to 1 million per month by September. Honda, Takata's largest customer, has lined up other companies to make replacement inflators. Takata is working with other suppliers as well. That could speed the process a little.
------
Q: If parts aren't available, am I in any danger if I drive my car?
A: That's a tough question. Takata uses ammonium nitrate to create a small explosion that inflates the air bags. But in the air bags being recalled the chemical can explode with too much force, blowing apart the metal inflator canister. Takata says its tests show that it takes many years of persistently high humidity to cause the problem in a small number of inflators. But the U.S. government pushed for the nationwide recall as it continues to investigate the exact cause of the malfunctions. Honda is offering loaner cars to drivers until their cars can be repaired.
------
Q: How does this recall compare with other big recalls?
A: The largest auto recall until now was in 1980, when Ford Motor Co. had to mail warning stickers to 21 million customers because their transmissions could slip into reverse. Last year, General Motors recalled more than 30 million vehicles in North America, but that was done in 84 separate recalls for various problems.
------
Q: Will Takata as a business survive this?
A: Takata also makes seat belts, steering wheels and other parts, and it supplies every major automaker in every region of the world. Takata reported a net loss of $244 million for the fiscal year ended in March, but forecast a profit of $166 million in the current fiscal year despite the recalls.
But Kelley Blue Book senior analyst Karl Brauer says Takata may not be able to handle the huge cost of the expanded recall and may need help from automakers or the Japanese government.
"Everyone has to keep them alive so they can fix the mess they made," he said.
------
Auto Writer Tom Krisher contributed.