Veterans Day marked across Texas with parades, ceremonies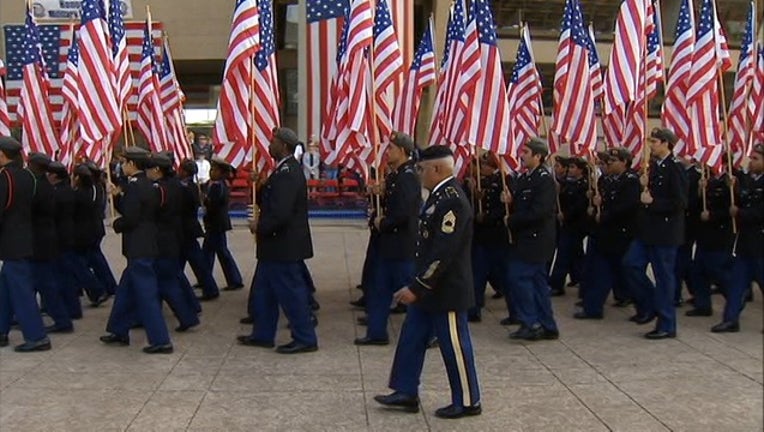 HOUSTON (AP) - Communities across Texas are hosting parades and appreciation ceremonies for Veterans Day.
Houston held a celebration Sunday outside City Hall that included a health fair. A patriotic-theme parade was also part of Veterans Day activities in Houston.
Mayor Sylvester Turner used a Facebook posting to urge people to thank veterans. Turner said Houston is home to more than 200,000 veterans and their families.
The Greater Dallas Veterans Day Parade scheduled for Monday was canceled due to the threat of severe weather, including possible heavy rain and freezing temperatures.
DFW National Cemetery honored veterans on Sunday. The Department of Veterans Affairs and the Texas National Cemetery Foundation hosted the public event with a brass band ensemble, a Marine color guard, rifle salute, flyover and a performance by the Midlothian High School's choir.
American Legion Post 15 in Lindale, 75 miles southeast of Dallas, held a ceremony Saturday featuring U.S. flags and speakers. Amarillo held a parade Saturday to honor veterans.
A wreath-laying ceremony was Saturday at the Alamo in San Antonio.