'Systemic failures' in Uvalde school massacre, report finds
UVALDE, Texas (AP) - Nearly 400 law enforcement officials rushed to a mass shooting at a Uvalde elementary school, but "egregiously poor decision-making" resulted in more than an hour of chaos before the gunman who took 21 lives was finally confronted and killed, according to a damning investigative report released Sunday.
An investigative committee from the Texas House of Representatives cited several failures, from the law enforcement response, to school security protocols, that contributed to the tragedy.
The nearly 80-page report was the first to criticize both state and federal law enforcement, and not just local authorities in the South Texas town for the bewildering inaction by heavily armed officers as a gunman fired inside a fourth-grade classroom at Robb Elementary School.
"There were multiple systemic failures," Texas House District 83 Rep. Dustin Burrows said Sunday.
The committee released its findings after interviewing dozens of officials and witnesses in closed door sessions.
"There was a lack of effective overall command that day," Burrows added.
The committee said there were nearly 400 officers at the school, and it took police 77 minutes to kill the attacker.
"Everyone who came on the scene talked about this being chaotic," Burrows said.
"Chaotic," with an "overall lackadaisical approach by law enforcement," according to the report.
Both Uvalde CISD Police Chief Pete Arredondo and the Uvalde Police SWAT commander were among the first responding officers, but there was no clear incident commander and poor communication both inside and outside. 
"The fact that there was no overall commander outside the building when there should've been one, should've been known by many," Burrows said. "There were officers in that building who knew or should've known more needed to be done."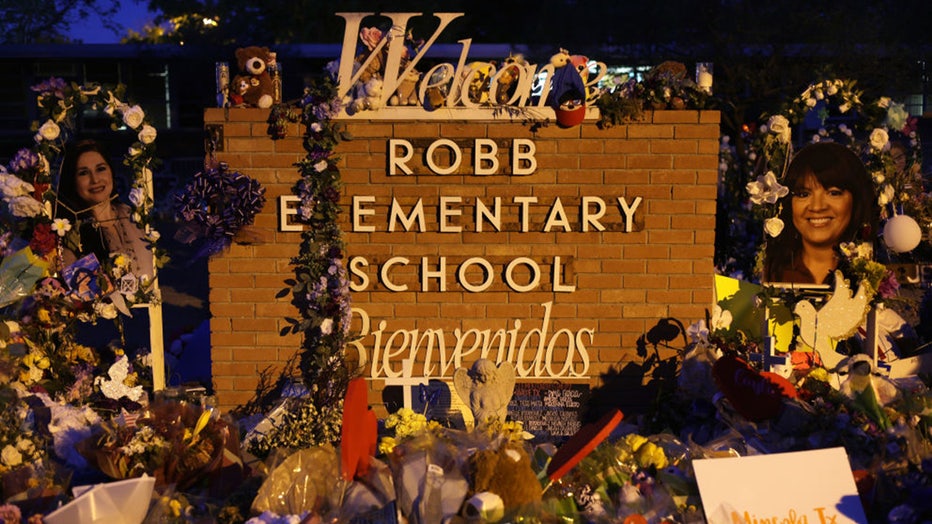 FILE - Flowers and photographs are seen at a memorial dedicated to the victims of the mass shooting at Robb Elementary School on June 3, 2022 in Uvalde, Texas. (Alex Wong/Getty Images)
RELATED: Video from inside Uvalde school shows officers milling around hallway during massacre
The attacker used an AR-15 to fire more than 100 rounds in two-and-a-half minutes before law enforcement arrived, according to the report.
However, it reads: "the committee has not received medical evidence that would inform a judgment about whether breaching the classroom sooner could have saved lives or mitigated injuries.
Still, the report found there were "multiple systemic failures."
The committee is providing facts. For now, it's not making suggestions, however, it believes law enforcement must be held accountable.
"If somebody knew there were victims in there being killed or dying, and did not do more, I believe those agencies will have to find accountability for those officers," Burrows said.
The committee said there were warning signs surrounding the attacker.
"He fits the profile of many. He came from a broken home," Burrows explained.
The report reads: "the attacker developed sociopathic and violent tendencies, but he received no mental health assistance," but it found there was "no information actually known" to law enforcement or the school district.
"He struggled in school, both academically and socially. He struggled to fit in and eventually became isolated. He networked through his peers, with his peers through social media and violent video games, and ultimately had a fixation on school shootings and even developed the nickname School Shooter," Burrows said.
RELATED: Gov. Greg Abbott: Uvalde video shows 'shocking' account of police response
The report also points to mistakes within Robb Elementary, including poor Wi-Fi connectivity and the failure to use the intercom system resulted in not all teachers receiving timely notice of the lockdown, including the teacher in room 111, where the gunman entered. 
It was also widely known at the school that the lock on 111 was not working, but a repair order was never filed.
And the report points to chronic security lapses with staff propping open doors or leaving them unlocked for easier access.
"There were multiple systemic failures, including not locking doors," former State Supreme Court Justice Eva Guzman said.
The report also debunked a previous claim by Texas State University's ALERRT Program, which creates active shooter training. 
ALERRT claimed in a report earlier this month that an officer had an opportunity to shoot and kill the gunman from a distance before he entered the school, but missed the opportunity while asking a supervisor for permission.
The committee said the person in sight of the officer was not the attacker, but actually a school coach. 
"The people of Uvalde, before this, they felt it couldn't happen here," Burrows said.
The committee encourages everyone to read the roughly 80-page report.
READ THE FULL REPORT: https://house.texas.gov/_media/pdf/committees/reports/87interim/Robb-Elementary-Investigative-Committee-Report.pdf
The Associated Press contributed to this report