USW golf team members, head coach killed in West Texas crash
The coach and several members of a New Mexico college golf team were among the nine people killed in a collision in West Texas.
The University of the Southwest in New Mexico said nine members of its men's and women's golf teams were heading home from a competition in Midland, Texas, when the crash happened. 
The school van was hit by an oncoming pickup truck on a two-lane highway in Andrews County. It happened just after 8:15 p.m.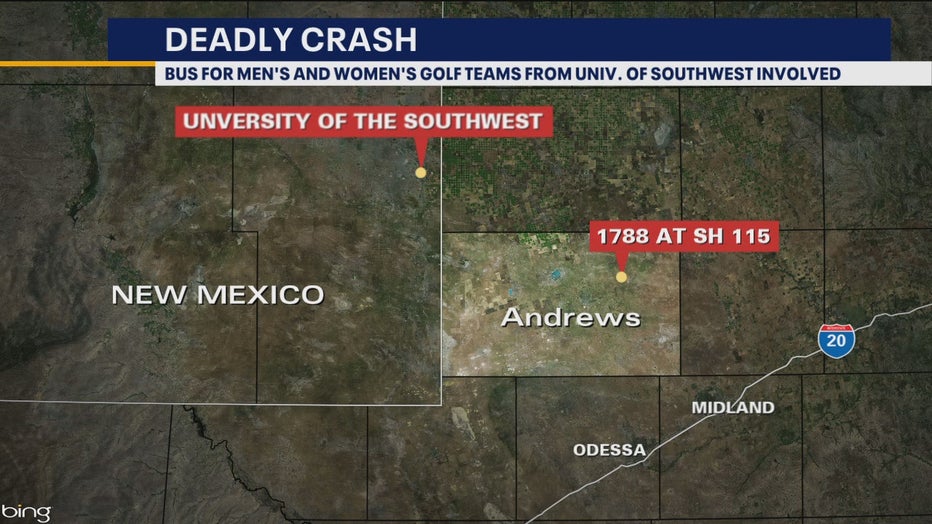 According to the Department of Public Safety, a Dodge was traveling southbound on FM 1788 while the school van was northbound. The Dodge crossed into oncoming traffic and struck the van head on. It's not yet known what caused the Dodge driver to go into oncoming traffic. Authorities said both vehicles caught fire.
"This was a head on crash. One of the vehicles involved belonged to the University of the Southwest. It was transporting the men's and women's golf team from a golf tournament here in the West Texas area. Tragically, there are deceased in that vehicle," said DPS Sgt. Steven Blanco. "It's a very tragic scene. It's very, very tragic."
Seven passengers died, along with the drivers of both vehicles. Only two passengers survived.
The driver of the Dodge has been identified as 38-year-old Henrich Siemens of Seminole, Texas. A 13-year-old boy in that truck was also killed.
The university confirmed Head Coach Tyler James was among those who were killed.
DPS has identified the students who were pronounced dead at the scene as:
Mauricio Sanchez, 19, of Mexico

Travis Garcia, 19, of Pleasanton, Texas

Jackckson Zinn, 22, of Westminster, Colorado

Karissa Raines, 21, of Fort Stockton, Texas

Laci Stone, 18, of Nocona, Texas

Tiago Sousa, 18, of Portugal
The two students who survived were 19-year-old Dayton Price and 20-year-old Hayden Underhill, both of Canada. They were taken to a Lubbock hospital in critical condition.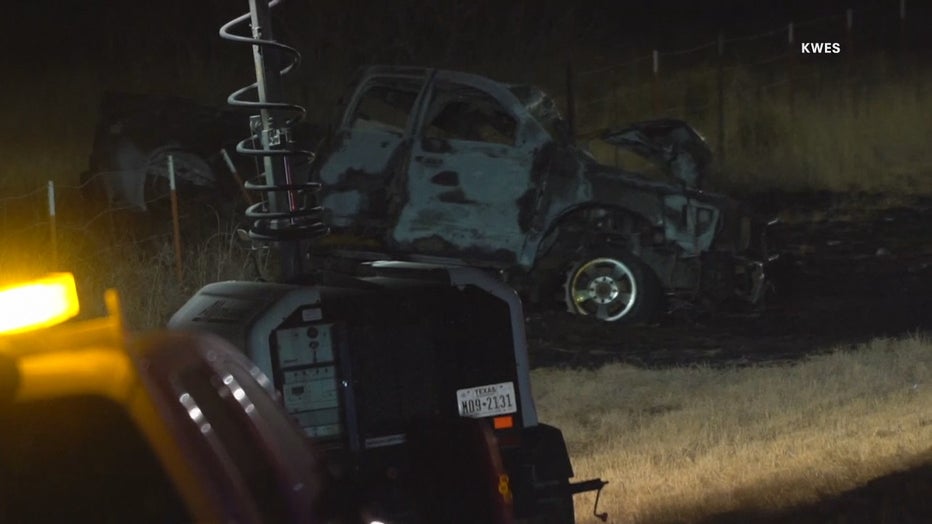 "The USW campus community is shocked and saddened today as we mourn the loss of members of our university family," USW said in a statement. "Please keep the families of students, coaching staff, and the USW community in your prayers as we come together to support one another during this difficult time."
Stone graduated from Nocona High School in Montague County. Her mother posted a message about her daughter on social media saying, "she has been an absolute ray of sunshine during this short time on earth…. We will never be the same after this and we just don't understand how this happened to our amazing, beautiful, smart, joyful girl."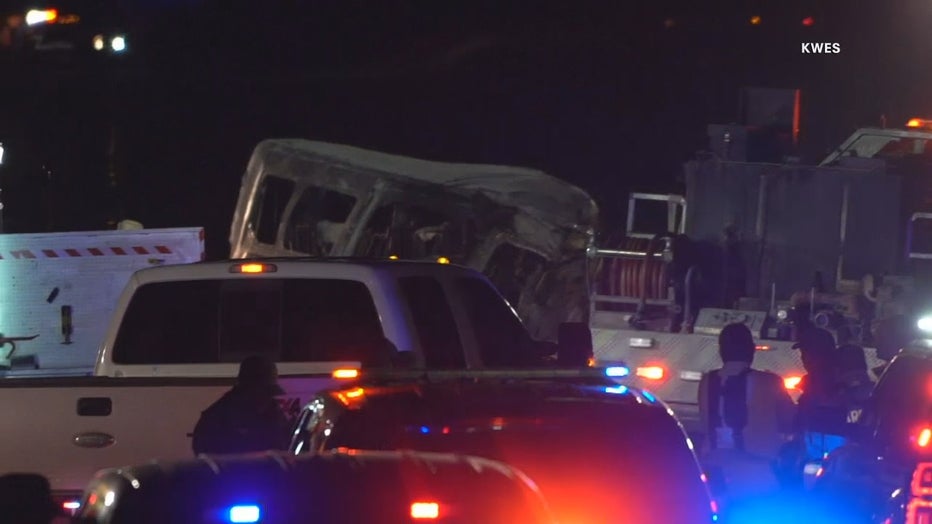 Heather Nobile is a family friend and one of Stone's former grade school teacher and coach. Stone played volleyball, basketball, ran track and played golf.
"She gives 110% at everything she does. She was a great athlete," Nobile said. "But more importantly, she was a leader. She was a leader of an on the field course or whatever she was doing."
Another of Stone's mentors from high school was her golf coach, Colby Schneiderjan. He is still coming to grips with what's happened.
"She was doing exactly what she wanted to do and excelling. It came to such an abrupt stop," he said. "It is very, very hard to digest right now. I was just keeping up with her career. I'd been in contact with her as well. Just really tough phone calls this morning for sure."
"She was one everybody looked up to. She was a positive role model for everybody," Nobile said. "She is going to be missed. She was a wonderful person."
Gary Raines is also trying to process the death of her daughter, Karissa Raines.
"As soon as I knew it was the Hobbs bus, yeah I knew that was her," he said. "She was a girl that if you met her, you loved her. There was no loving or hating. It was you loved her."
Gary says Karissa was two months shy of graduating a year early and her plans to start her master's in the fall. She shared a love for golf with her father and with her twin brother.
"When she was in junior high and high school, her plan was to go in the PGA Tour and be a forensic scientist," he said.
Texas Highway Patrol is investigating the crash along with the NTSB. The weather was fine and road conditions were dry. 
It's still unclear what caused the pickup truck to veer into oncoming traffic.
READ MORE:
Two UFC fighters dining in at River Oaks sushi restaurant, pin gunman down until police arrive
Houston Police Officer admits to possessing child pornography, court documents reveal
$6,000 reward offered for information on 2020 Texas cold case