Two chicken dinner recipes that won't break the bank
Winner, Winner Chicken Dinner, these two recipes are sure to please a crowd.  
Culinary instructor and the founder of A Taste of Paris Lorie Fangio shows us how to make Chicken and Vegetable Casserole and flavor-packed Chicken Pasta.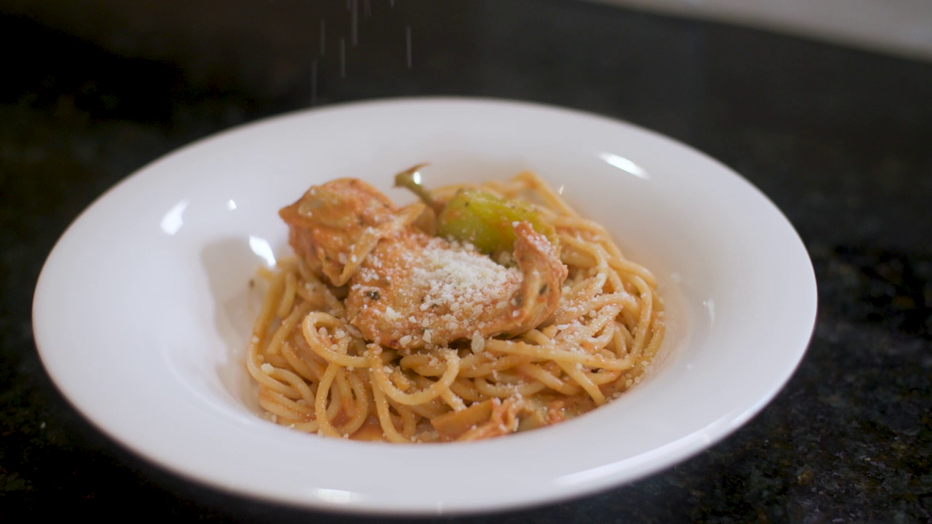 Chicken with Blush Pasta Sauce
3 cups bottled red sauce 
2 chicken breasts, cut into strips
1 tablespoon olive oil
½ cup chicken stock or white wine
2/3 cup heavy cream
1/3 cup sliced pepperoncini
1 package of frozen artichokes, chopped
½ teaspoon red pepper flakes
¼ cup parmesan cheese, plus more for topping
Salt and pepper
1 pound spaghetti, cooked in salted water to al dente  
Heat olive oil in a large chef's pan or skillet over medium-high heat. Salt and pepper chicken and add it to the pan.  Brown the chicken for 3-4 minutes on each side.  Deglaze the pan with chicken stock or white wine.   Add artichokes, pepperoncini, red pepper flakes, and sauce to the pan and simmer for about 10-12 minutes.  Add heavy cream and Parmesan cheese to the sauce, and stir to combine.   Add cooked pasta to the sauce, toss to coat, and serve.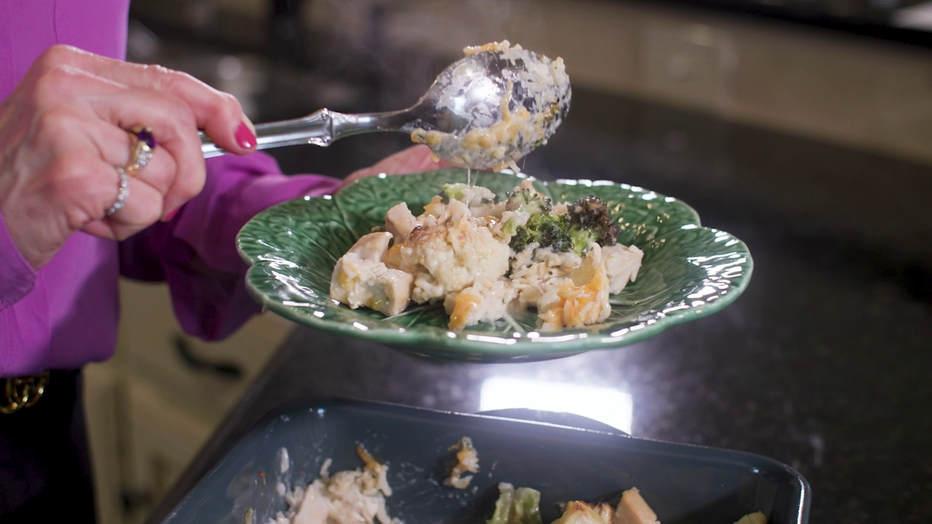 Chicken and Vegetable Casserole
2 cups prepared rice
2 tablespoons butter
2 tablespoons flour
1 cup milk
1 cup chicken stock
2-3 cups chopped broccoli florets
1 head of cauliflower cut into florets
2 cups chicken, cooked and cubed
1 teaspoon onion powder
½ teaspoon garlic powder
½ teaspoon salt and pepper
1 cup shredded cheddar cheese
Preheat oven to 350 degrees.  In a heavy-bottomed saucepan set over medium heat, melt the butter, add flour, and cook for 2 minutes.  Heat the milk and stock in the microwave for 1 minute.  Whisk the heated liquid into the flour mixture and add seasoning.  Cook for 3-5 minutes until the sauce has thickened.  Meanwhile, steam the cauliflower and broccoli until tender.  Grease a 9x13 casserole dish with non-stick cooking spray.  Add the vegetable, rice, and chicken to the pan, pour over the sauce, and mix well, then spread out in the pan.  Sprinkle cheese on top and bake until cheese has melted about 10-12 minutes. 
Learn more about A Taste of Paris here.