Tornado Watch canceled for North Texas, remains active for parts east
DALLAS - Storms quickly moved out of North Texas as fast as they moved in. 
The Tornado Watch for the majority of North Texas has been canceled but remains active for eastern counties until 11 p.m.
Severe storms fired up Tuesday afternoon to our south and west and are quickly moving into North Texas at a 35-40 mph pace.
North Texas avoided the brunt of the most severe storms, but there was some wind damage
Severe storms did cause some problems down in Hood County, including damage to a grocery store in Granbury where the storm pulled the front doors off their hinges.
Surveillance video from the Brookshire's Grocery Store on Highway 144 shows one of the sliding glass doors come off of its hinges and fly open. The wind even blew a display chair into the store.
The cashiers who were up front say it happened just after 5 p.m. as the rain was passing through. At one point, they were convinced the storm had turned into a tornado. No injuries were reported.
A little further to our south in Central Texas, a severe storm there produced a tornado in Jarrell off I-35, about 60 miles south of Waco.
The National Weather Service warned of a strong tornado that touched down in Salado, which is just a few miles north.
The same storm also produced monster hail and didn't let up for hours.
For East Texas, the storms could bring up to tennis ball-sized hail, wind gusts up to 70 miles an hour and a 5% tornado risk. Wind and hail are the primary concerns.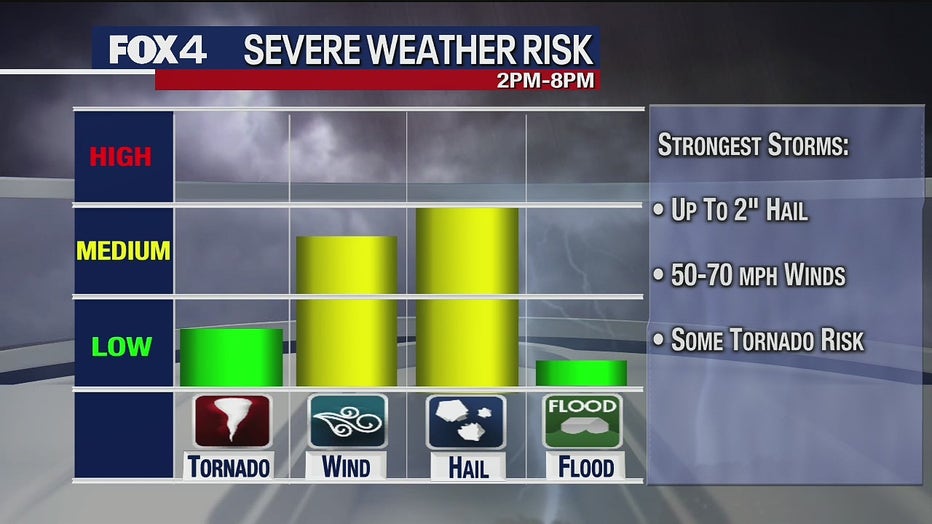 Eastern counties will see storms between 8 p.m. and 11 p.m.
Wednesday will bring another threat of severe weather, but it won't be as widespread at only a 30% chance. Highs will be in the 80s with lows in the 60s.
3 days of severe storms in the forecast for Dallas-Fort Worth