Texas: The Issue Is - Discussion about Gov. Greg Abbott's priorities going into his 3rd term
We know Texas has a record surplus and a lot of the focus has been on property tax relief, but in his inaugural address, Gov. Greg Abbott gave a preview of what other priorities he has for this legislative session.
For the third time, Abbott took the oath of office for governor of Texas.
"Thank you for the trust you have placed in me to lead our great state for four more years," Gov. Abbott said.
READ MORE: Gov. Abbott and Lt. Gov. Patrick take the oath of office for the 3rd time
With a more than $30 billion surplus, Gov. Abbott, Lt. Governor Dan Patrick, and House Speaker Dade Phelan made it known what their priorities are, with the biggest promise being to give the money back to the taxpayer.
In his speech, Abbott mentioned infrastructure, something Phelan said should be a priority with the extra money.  
"We must work this session to bolster our infrastructure, including the roads we drive on, the water we use at home and in our fields, and the ports we use to shift products across the entire globe," he said. "Our state is so grand we have now more than 30 million people that call Texas home."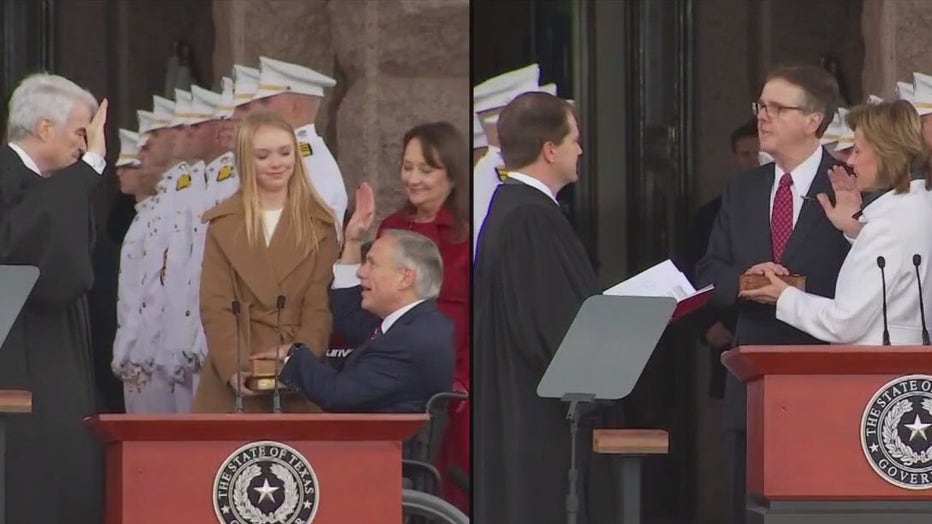 While big ticket items may not have widespread bipartisan support this session, making schools safer following the Robb Elementary mass shooting in Uvalde is expected to have bipartisan support.  
Democrats likely won't get any meaningful wins when it comes to gun reforms, but both sides could come together on mental health funding and hardening schools.
"We must prioritize students and staff. We must provide mental health services to students who need it," Abbott said. "Parents must know their children are going to be safe when they drop them off every morning. We will not end this session without making our schools safer."
Abbott urged lawmakers to fix the bond process.  
"We must end the easy bail policies that let dangerous criminals back onto our street. We must have mandatory sentences on criminals caught with guns and mandatory sentences on anyone caught smuggling illegal immigrants in Texas," he said.
Republicans and Democrats agree there's a problem on the southern border.  
For the first time in two years, President Joe Biden visited the border in El Paso.
RELATED: Biden visits US-Mexico border as migrant crisis spirals
Republicans, like Senator John Cornyn, told reporters the president's visit can't just be a photo op, saying there needs to be real change.  
"More illegal immigrants crossed our border than the populations of Austin, El Paso, and Houston combined," Abbott said.
Operation Lone Star, seen as a political stunt by some Democrats, has cost the state billions of dollars.
While the Texas National Guard presence at the border has decreased in number, Abbott said he will continue to fund the operation and will continue to bus asylum seekers to Democrat led cities.
"Our job is to deliver solutions for our fellow Texans, and by God, that is exactly what we are going to do this session," Abbott added.
The new House Democrat Chair Rep. Trey Martinez Fischer responded to the Abbott's speech by saying he gave no plan for what he calls economic pain for Texans. 
Fischer also blamed Abbott and Republicans for the rising cost of food.