Tale of 2 airlines: Big profit at American, Southwest loss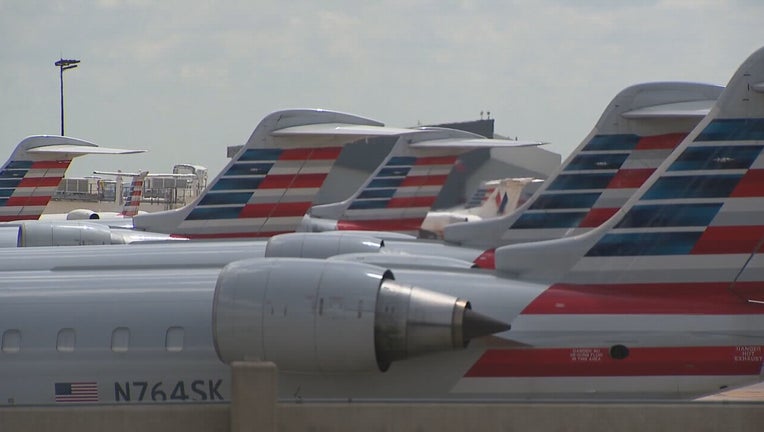 article
FORT WORTH, Texas - American Airlines gave more proof Thursday of the recovery in air travel, posting a better-than-expected profit for the fourth quarter, while Southwest Airlines lost money because of massive flight cancellations last month.
Southwest said it also expects another loss in the first quarter while saying it was encouraged by booking trends for March.
Southwest reported a $220 million loss after taking a hit of $800 million from canceling nearly 17,000 flights over the last 10 days of December.
The airline had signaled it would lose money, but the adjusted loss of 38 cents per share was worse than the 7 cents per share that Wall Street expected.
Shares of the company slipped 2.4% in premarket trading.
American Airlines flight attendants picket at DFW Airport
The Transportation Department is investigating whether Southwest scheduled more flights than it could realistically expect to handle, which it says would violate federal laws against deceptive trade practices. Southwest says its schedule was "thoughtfully designed" and the airline had ample staffing.
Southwest blames an "unprecedented storm" that swept the country around Christmas. Other airlines recovered more quickly, while widespread cancellations at Southwest dragged on for days.
On Thursday, CEO Robert Jordan again apologized for the meltdown.
"We have swiftly taken steps to bolster our operational resilience and are undergoing a detailed review of the December events," he said. The Dallas company has hired outside experts and created a committee of its board to review the events and reexamine Southwest's technology priorities.
Southwest Airlines to give employees bonus for working during holiday travel meltdown
American reported a profit of $803 million. Excluding special items, earnings per share totaled $1.17. Analysts expected $1 per share, according to a FactSet survey.
Revenue was a fourth-quarter record of $13.19 billion, a 40% increase from a year earlier and better than analysts expected, leading to record annual revenue.
The Fort Worth, Texas-based carrier returned to a profit for the full year and forecast 2023 earnings in a range of $2.50 to $3.50 per share. For the first quarter, American expects to break even, based on demand and fuel trends.
In premarket trading, the stock rose 1.5%.
American's results added to the picture of strong demand for air travel that was reflected in an $843 million profit for United Airlines and $828 million for Delta Air Lines.