American Airlines flight attendants picket at DFW Airport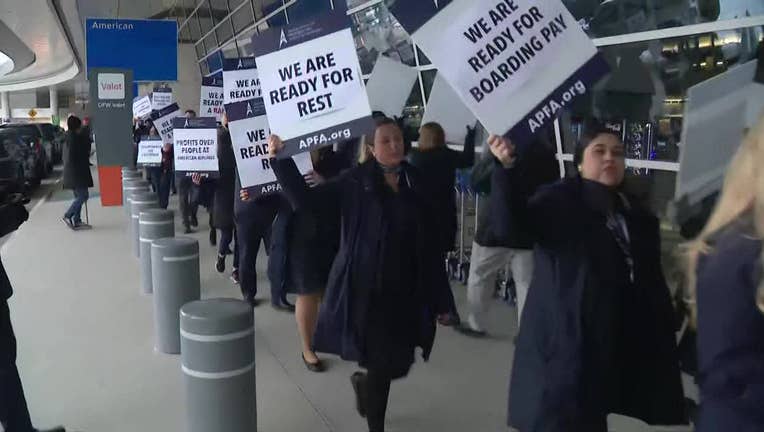 article
FORT WORTH, Texas - American Airlines flight attendants picketed at DFW Airport Tuesday to demand pay raises and more manageable schedules.
The march in North Texas was one of nearly a dozen at airports across the United States.
The Association of Professional Flight Attendants is still trying to work out a deal with the Fort Worth-based carrier.
Southwest Airlines pilots to vote on first-ever strike
With travel back to pre-pandemic levels, the flight attendant organization said American's scheduling and staffing problems are hurting flight attendants.
"Management has brought back our flying to pre-pandemic levels. Our profits are at pre-pandemic levels. Yet they have not brought back our flight attendants. We are not getting shares in their record profit or shares in their profit that we deserve. Our flight attendants came to work during the pandemic and brought this company back to the profitability that it is today. Our flight attendants deserve more," said Erik Harris, APFA's treasurer.
Southwest Airlines agrees to tentative deal giving dispatchers a 17% raise
The organization is also demanding changes to how flight attendants get paid and more sick days.
American said picketing at DFW Airport and elsewhere is not unusual during contract negotiations and that it's committed to reaching a deal that benefits both employees and the company.