Special education students running Dallas high school food pantry to help homeless kids
DALLAS - Last year, Dallas ISD said more than 4,000 of its students were homeless. This year, that number is expected to grow. 
Woodrow Wilson High School's Community Peace Pantry is helping those students in need while giving special education students who run the pantry life experience. 
The pantry was started about six years ago by a teacher who saw a need for it. But when the pandemic hit and volunteers could no longer come inside the school to help, special education students stepped up. 
For the past few years, the Peace Pantry has helped fill a need for students by providing food, clothing and toiletries.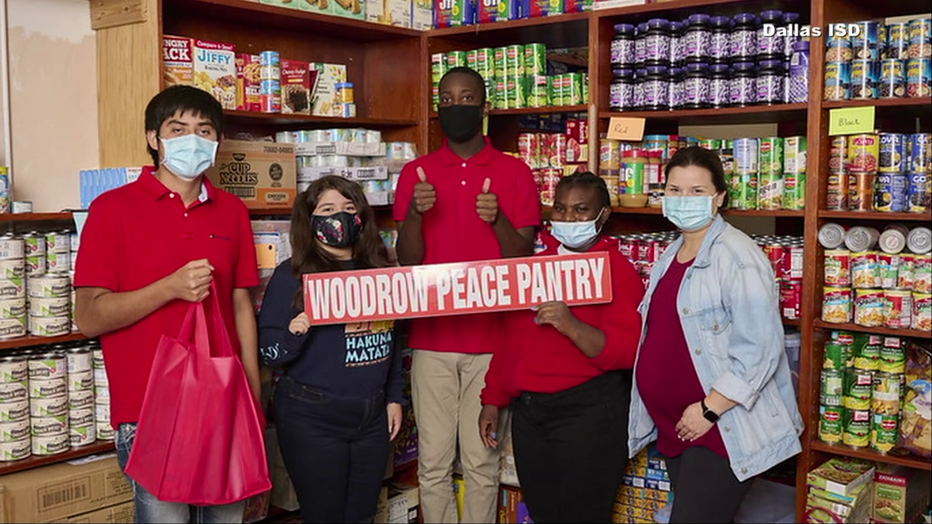 But as the pandemic hit and volunteers were no longer able to come into schools, Amber Duke's special education class was able to fill the gap. 
RELATED: New Youth shelter in South Dallas opens its doors to homeless students
"My class was all on campus. So we were able to step in and fill the need, covering it daily," she said.
It's a win-win situation that helps students in need while also helping special education students develop life and work skills. 
"They've gained a lot of skills on stocking, bagging," Duke said. "The students do all the shopping. They go and pick out their shopping list. They pick out the items, looking for the most cost effective. They work on their money skills."
The special education students hand out about 20 bags of clothes and food a week and 60 to other students in need around the holidays. 
"I do the bags. I like helping people a lot," said student Eduardo Hernandez.
"And their families, too. We give them clothes if they're out of dress coding. And we give the food if they can't afford it in the grocery store," said student Fatima Tejada.
MORE: Education Stories
The need goes beyond Woodrow Wilson.
Last year, Dallas ISD identified over 4,000 homeless students in the district.
"I used to say we're all one paycheck away from being homeless now. We're all just one pandemic away from being homeless," said Dallas ISD Homeless Liaison Ashley Marshall.
Over 90% of the district is also on free and reduced meals. 
And so far this year, they've identified over 2,800 homeless students. Virtual and hybrid schooling made it difficult to identify students in need. 
"We weren't seeing them at school where we normally did. Their teachers weren't talking to them," Marshall said. "Their teachers weren't noticing if kids were coming in hungry or they were hoarding food and coming in with dirty clothes."
Now that students are back, the district is hearing from more families and expects the number of homeless students to grow due to the ongoing pandemic and the eviction moratorium coming to an end. 
"A lot of it is letting them know it's okay to say that that's their situation because a lot of people are embarrassed by it," Marshall said. "A lot of people are finding themselves in that situation, and they've never been homeless before."
The district's homeless services help with basic needs as well as pairing families with homeless services and shelter. And since the pantry started at Woodrow Wilson, the nonprofit that runs it has also been able to start about nine pantries at other schools.