South Korea halts propaganda broadcasts as Koreas reach deal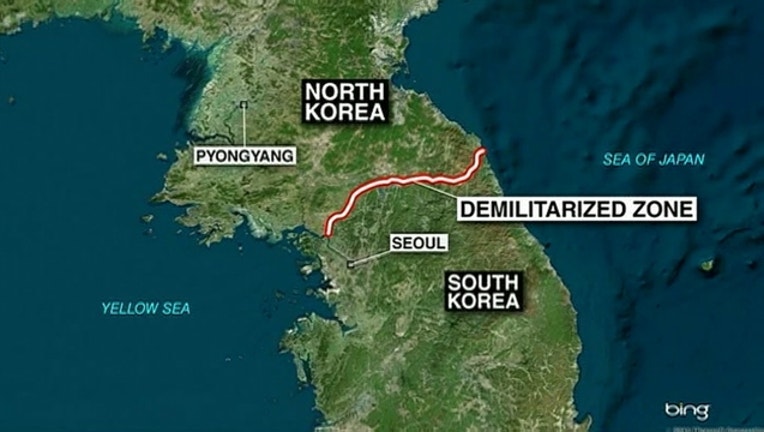 article
SEOUL, South Korea (AP) — South Korea says it got an apology. North Korea says its archrival learned a "serious lesson." That's how compromises are engineered on a peninsula that has technically been at war for more than 60 years.
Seoul halted anti-Pyongyang propaganda broadcasts over loudspeakers on the border Tuesday, hours after North Korea expressed "regret" over two South Korean soldiers maimed by recent land mine blasts. The North's carefully worded yet vague statement, produced after more than 40 hours of talks between the countries, helped bring the rivals back from threats that seemed set to spin out of control last week.
The Koreas also struck an important humanitarian agreement by promising to begin talks in September to plan emotional reunions of families separated by the Korean War. The reunions could take place as early as October, considering the time needed to match relatives and agree on a venue, said an official from Seoul's Unification Ministry who didn't want to be named, citing office rules.
It's unclear how long the good mood will continue: The Koreas have a history of failing to follow through on their promises and allowing simmering animosity to interrupt diplomacy. But in the short term at least, the deal was a relief, easing prospects of fighting between two countries that had seemed equally unwilling to give ground to the other.
"I hope the two sides faithfully implement the agreements and build up (mutual) confidence through a dialogue and cooperation and that it serves as a chance to work out new South-North relations," chief South Korean negotiator and presidential national security director Kim Kwan-jin said in a televised news conference.
The United States quickly welcomed the agreement and the prospect of tensions dropping.
Pyongyang had denied involvement in the land mine explosions earlier this month. South Korea resumed its loudspeaker propaganda broadcasts along the border in response to the blast.
Last week, Seoul said North Korea launched an artillery barrage in response to the broadcasts. Pyongyang denied it, but South Korea's military answered with substantially greater firepower, sending dozens of artillery rounds across the border.
No injuries were reported in either incident, but the North reacted with fury, declaring that its front-line troops were in full war readiness and prepared to go to battle unless Seoul dismantled the loudspeakers by Saturday. South Korea warned that if it were attacked it would respond with much greater force.
Negotiations began Saturday at the border village of Panmunjom, where the Koreas agreed to the 1953 cease-fire that stopped fighting in the Korean War.
While the Koreas have difficulty agreeing to talks, once they do, marathon sessions are often the rule. After decades of animosity and bloodshed, finding common ground is a challenge. During the latest Panmunjom talks, the first session lasted about 10 hours and the second session about 33 hours.
South Korean President Park Geun-hye had demanded a "definite apology" over the land mine blasts, and Kim, the Seoul negotiator, described the North's expression of "regret" as an apology.
Appearing on North Korea's official Korean Central TV on Tuesday afternoon, Hwang Pyong So, who was one of the North's negotiators, indicated that, despite the expression of regret, Pyongyang had no intention of taking responsibility for the land mine explosions.
Hwang, the top political officer in the Korean People's Army, said the South learned a "serious lesson" that it should not provoke the North by "creating a groundless incident" that raised tension and increased the possibility of a military clash. Hwang, however, ended his short TV appearance on a positive note, expressing hope that the accord would provide an opportunity for improved ties.
Pyongyang's decision to send Hwang to the talks was considered a signal of its seriousness since he is considered by outside analysts to be North Korea's second most important official after supreme leader Kim Jong Un.
The negotiations also resulted in Pyongyang agreeing to lift a "quasi-state of war" it declared last week, according to South Korea's presidential office and North Korea's state media.
While the declaration was largely a matter of rhetoric — the border is the world's most heavily armed and there has never been a formal peace agreement ending the Korean War, so the area is always essentially in a "quasi-state of war" — there had been growing worry about South Korean reports that the North was continuing to prepare for a conflict during the talks, moving unusual numbers of troops and submarines to their land and sea border.
North Korea often makes conciliatory gestures to win concessions and aid from rivals after stoking tensions. The North is now seen as eager to reopen to South Korean tourists, along with pursuing business and investment deals with its more affluent neighbor.
During the talks at Panmunjom, the North Korean negotiators raised the issue of restarting joint tours to the North's scenic Diamond Mountain resort, said the official from Seoul's Unification Ministry who spoke on condition of anonymity.
The tourism project began in 1998 during an era of warmer ties and was a legitimate source of hard currency for the cash-strapped North, but Seoul suspended the tours in 2008 following the shooting death of a South Korean tourist there. Issues related to North Korea's nuclear weapons program or joint military exercises between the U.S. and South Korea, which Pyongyang condemns as a rehearsal for invasion, were not discussed during the talks, the official said.
South Korean defense officials said during the negotiations that about 70 percent of the North's more than 70 submarines and undersea vehicles had left their bases and could not be located by the South Korean military. They also said the North had doubled the strength of its front-line artillery forces since the start of the talks. Kim Min-seok, a spokesman for Seoul's Defense Ministry, said Tuesday that the South Korean military was seeing signs that some of the North's submarines and undersea vehicles were returning to their ports, but he did not elaborate.
___
Associated Press writer Kim Tong-hyung contributed to this report.