North Texas school districts re-evaluating COVID-19 protocols, virtual learning options
PLANO, Texas - After Dallas ISD announced a mask mandate, FOX 4 wanted to see if any other districts were following suit. 
So far, none in the DFW area will be requiring masks for now, but some districts are shifting their virtual options. 
The Plano school board had a special meeting Monday night to revise its COVID-19 health and safety rules. Many parents went before the board last week asking for stricter protocols.
RELATED: Parents ask Plano ISD to bring back Plexiglass dividers, other COVID-19 protocols
Since then, cases of the COVID-19 delta variant have continued to soar, especially in children.
Plano ISD announced Monday it's now offering a temporary parent-led virtual option for Pre-K through sixth grade. Assignments will not be instructed by a teacher.  Instead, students will work under parental direction. Masks will remain optional.
The Plano school board decided to request a waiver from the governor to give the board the authority to vote on a mask mandate, asking for local control.
MORE: Dallas ISD mask mandate starts Tuesday for everyone on campus despite Abbott's orders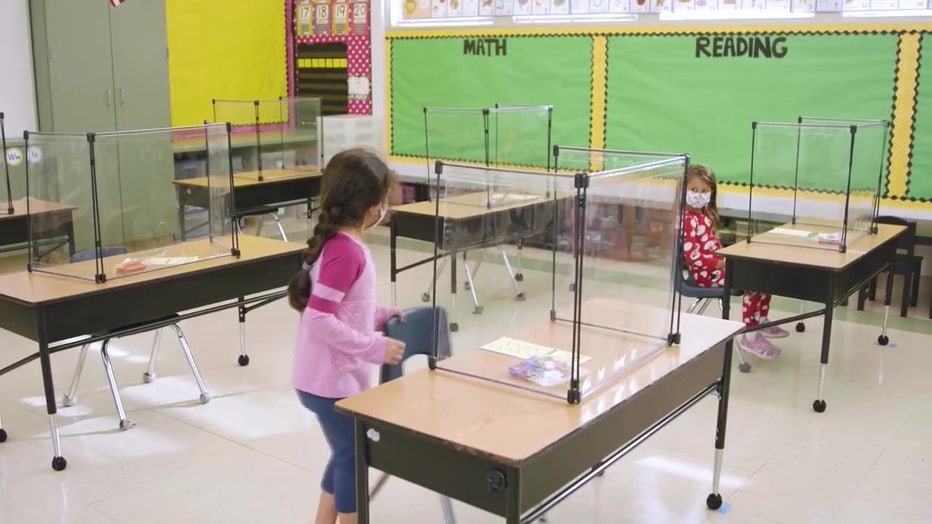 Some parents in Plano ISD agree with the changes.
"We thank you for making masks optional. For parents having their choice and kids having their choice," one parent said.
Others felt the district should defy the governor's orders.
"This is the wrong time to send thousands of kids without masks. It doesn't make sense," another parent said.
The school year starts Wednesday in Plano.
Over at Richardson ISD, parents also got an update on the district's COVID-19 plan on Monday.
RISD Superintendent Dr. Jeannie Stone released a video statement after she says several patients called in with concerns. 
"We are announcing today virtual classroom options for RISD elementary students, grades K through 6," she said.
This virtual option will last until the vaccine is available for students under the age of 12. 
"Masks have remained optional," the superintendent said. "That's the governor's order, which does the force of Texas law."
Richardson ISD is scheduled to start classes a week from Tuesday.
Over at Fort Worth ISD, the district says it doesn't plan to follow in Dallas ISD's footsteps as of yet.
"I believe with the other large urban who are deciding to mandate masks, the legal process will play out," said Superintendent Dr. Kent Scribner.
He says he strongly encourages masks in his district, but it will remain a personal choice.
Campuses will return to face-to-face learning next week. 
Arlington ISD also says it doesn't plan to change its protocols, including optional masks and in-person learning for all grades.