Murder suspect surrenders after shooting at Dallas police, hours-long standoff
DALLAS - Dallas police waited out a murder suspect who opened fire on them when they first tried to arrest him in a neighborhood Wednesday morning.
The standoff ended with the suspect peacefully surrendering.
Sources tell FOX 4 the man is wanted for shooting and killing a father of five early last month outside a club. The case was recently featured on FOX 4 's Trackdown. Late Wednesday, police confirmed that information.
It happened just before 11 a.m. at a home near Humphrey Drive and 51st Street. 
Police say 28-year-old Julio Guerrero fired a gun at Dallas police officers who were trying to serve a warrant. The suspect surrendered around 7 p.m. following a SWAT standoff that lasted more than eight hours. 
Officers and U.S. marshals were conducting surveillance on the home early Wednesday morning. Guerrero arrived mid-morning. 
"At some point, the suspect was alerted, ran out of the house and started shooting at our officers," said Dallas Police Chief Eddie Garcia.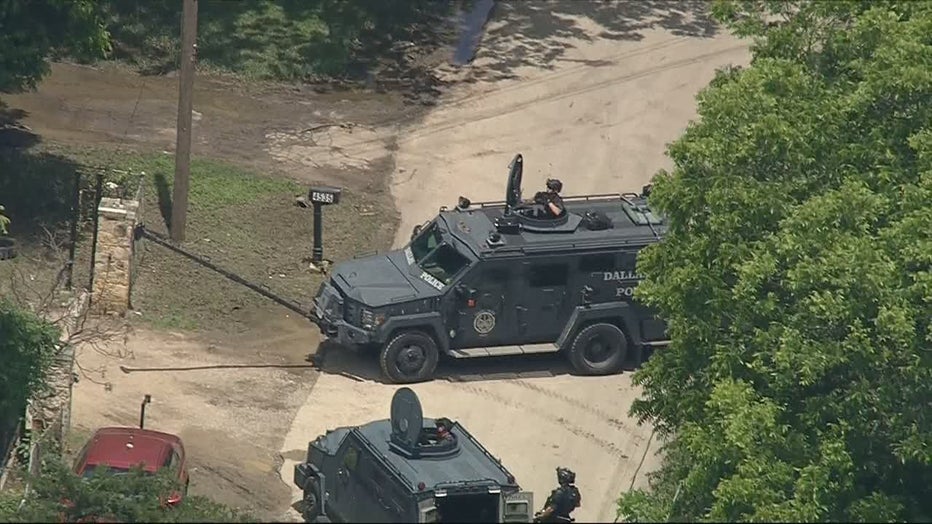 A group claiming to be Guerrero's tenants say they live in RVs on the property. They were nearby during the chaos.
"It's kind of hard for me to believe," said tenant Joshua Hodge. "Not saying it couldn't happen, but it's really hard for me to believe."
SWAT members breached the front entrance of the home with extensions of armored vehicles. Flashbangs of tear gas were seen and heard throughout the afternoon. 
Guerrero was wanted for the murder of Francisco Villanueva that occurred on May 2 at the Tiger Cabaret.
MORE: Trackdown: Help find Francisco Villanueva's killer
Police say Guerrero is also wanted for the shooting of a 3-year-old child that happened on May 10. He had three outstanding aggravated assault felony warrants.
No officers were injured, but Chief Garcia says it was too close a call.
"The number one priority in this city is violence," he said. "We had an individual who was wanted for murder. An individual who was wanted for a number of other aggravated assaults and who shot at police officers. That's what the chief is here for."
Guerrero was not injured. He'll be booked in the Dallas County jail where he will be facing additional charges of aggravated assault on a public servant.