Senator Kamala Harris makes stop in Fort Worth during her trip to Texas
FORT WORTH, Texas - Vice presidential nominee Kamala Harris visited North Texas Friday.
It's the first time in more than 30 years that a Democratic vice presidential candidate has visited this area.
Friday's event in Fort Worth was one of three stops she made in Texas.
The California senator visited the Lone Star State to try to rally Latino voters.
For the first time, Latinos are expected to be the largest racial or ethnic group to participate in the presidential election, making up 13% of all eligible voters.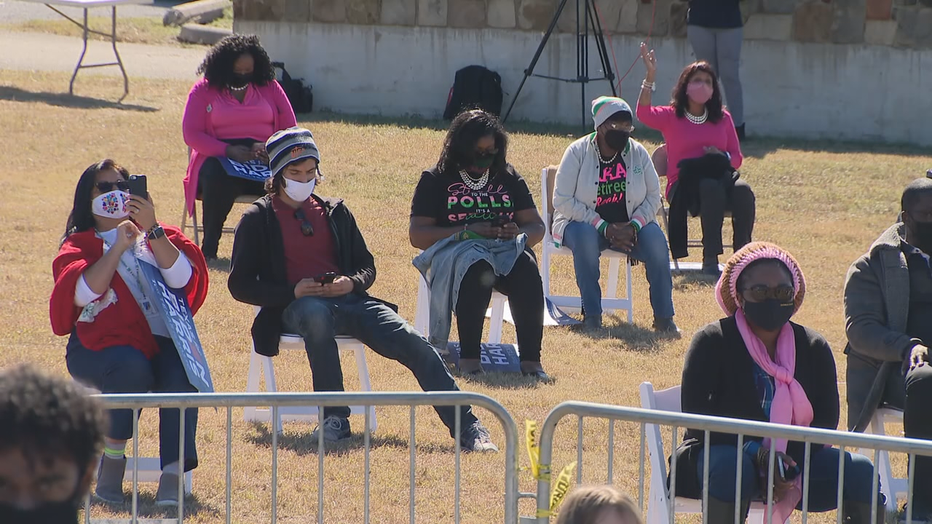 A small group of socially-distanced supporters joined her at the Fort Worth stop.
There was also a small group of protestors.
Harris acknowledged the final day of early voting in Texas.
"What did I hear? Was it 9 million people have voted so far, early voting, in Texas, 9 million? Now we know this is no time to let up on the pedal though," she said.
She then went right to work, wasting no time with the Biden/Harris campaign's toughest assault on President Donald Trump, criticizing his administration's handling of the coronavirus pandemic.
"We have a president who, while we are seeing spikes around our country, talking about we've turned the corner, continuing to mislead the American people," Harris said.
The event's setting was atop what's known as Berry Hill at St. John Baptist Church. Supporters, after entering through tight security, sat socially distanced.
Harris hit topics ranging from health care, the economy, taxation, and racial injustice.
"Joe Biden is committed to not raising taxes ever on anyone making less than $400,000 a year, lowering middle class taxes, also making sure no working family pays more than 7% of your income in child care," Harris said. "On the one hand, you have Joe Biden who is a student of American history and has the courage to speak the phrase Black Lives Matter. On the other hand, you have Donald Trump who on a debate stage, two debates ago, refused to condemn white supremacists."
One supporter watching was Dallas attorney Jill Louis, Harris' sorority line sister and Howard University college friend. They got a chance to briefly connect.
"Just the opportunity to see her here, resilient, empowered and on a mission. I loved seeing it, I loved seeing her and talking with her. One day we'll get that hug. We had to do corona hugs," she said.
In her final words, Harris told listeners to think of their grandchildren who will look back on this moment in time. 
"You will tell them when they ask that you elected Joe Biden the President of the United States! Thank you Fort Worth Police Dept. and God bless Texas," Harris said.