Richardson ISD mask mandate set to expire on Friday
RICHARDSON, Texas - A mask mandate for everyone on Richardson ISD campuses expires at the end of the day Friday.
Beginning Monday, face masks will be encouraged but not required for students, staff and campus visitors.
Richardson ISD cites declining COVID-19 case numbers from pandemic highs. Meanwhile, other school districts had to close this week due to staff calling out sick.
Instead of the all-or-nothing approach most districts have taken when it comes to kids wearing masks at school, Richardson ISD Interim Superintendent Tabitha Branum says the district will now only require masks when the case counts show they are needed. 
"We have campuses in Garland, Dallas and Richardson," she said. "And it is impacting campuses at a different rate."
If a campus has a case count getting close to 5% of the population, parents will receive a warning letter. And when cases are at 5%, masks will be required for two weeks.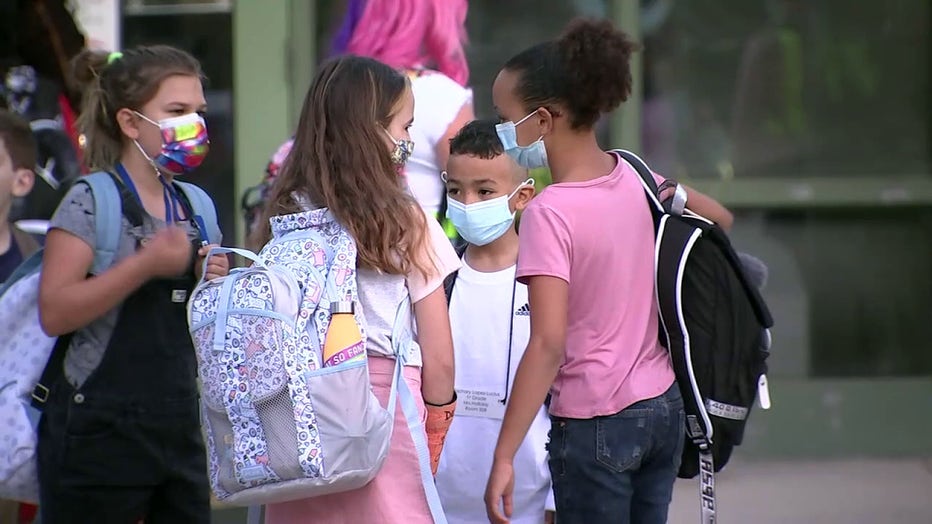 FILE: Kids wear masks as they return to school in Hillsborough County in August of 2021.
"We have a campus with less than 1% and one with 5.9% at that campus," Branum said. "We feel we need to implement risk mitigation appropriate at that campus."
Richardson ISD says its cases peaked Jan. 14 and have steadily declined ever since. 
Former Dallas County Medical Society President Dr. Mark Casanova still stresses the importance of wearing masks.
"Will it become a common cold we can function around? Hopefully. Is that today or next week? No," he said. 
Dr. Casanova and says the reason he still recommends caution is because omicron is not yet equal to cold or flu virus because of the strain it's still putting on hospitals and the workforce. 
"I will remind folks the common cold does not land folks in the hospital," he said. "Omicron is still landing people in the hospital at a significant rate."
To combat staffing shortages, Richardson ISD is providing all teachers and full-time staff members with a $1,000 stipend next month and $500 for part-time staff. It is also providing staff with five additional paid time off days for COVID-related quarantines.
Dallas ISD has a similar policy that was extended through spring break because of the highly contagious omicron variant.
RELATED: Lewisville ISD is latest school district to close due to COVID-19