Record: Son held in Oklahoma official death had mental issue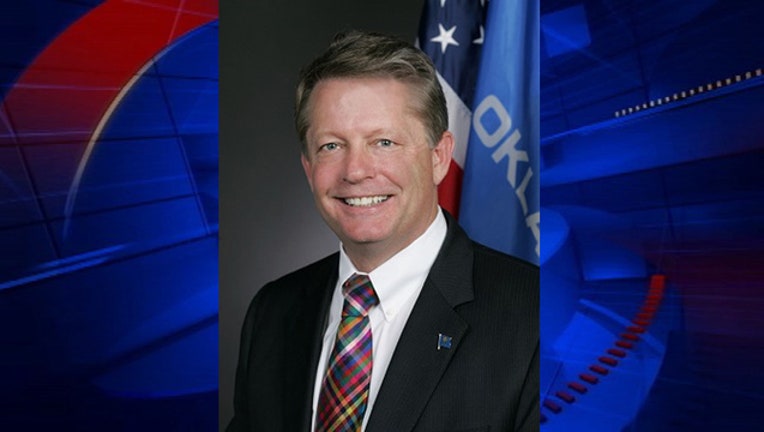 article
OKLAHOMA CITY (AP) — An adult son of Oklahoma's labor commissioner, who was arrested on a complaint that he stabbed the politician to death at a restaurant, was once confined for three months so he could be treated for mental illness, according to records obtained by The Associated Press.
Court records show that Christian Costello, 26, disclosed the treatment as part of a deal with prosecutors after he was arrested for driving under the influence of drugs in 2012. He also noted he was taking mood stabilizers.
Costello is accused of having stabbed his father multiple times Sunday evening at a fast-food restaurant in Oklahoma City. Mark Costello was elected during a Republican sweep of statewide offices in 2010 and re-elected last year.
Christian Costello pleaded guilty and received a deferred sentence in the DUI case, in which he was also accused of assaulting the Oklahoma County deputy arresting him. Last October, he was cited for outraging public decency — a misdemeanor — for allegedly appearing outside of an Oklahoma City Catholic school in pajamas with his pants down and wearing one green shoe. The case remains unresolved.
"The defendant was chewing on two bird feathers and what appeared to be dandelions and other weeds," records filed with the court said.
Sunday evening, officers were called to a Braum's ice cream and fast-food restaurant on the city's northwest side after a stabbing was reported, Oklahoma City Police Department Capt. Paco Balderrama said. Police found Labor Commissioner Mark Costello stabbed multiple times in the head and neck, Balderrama said. Costello, 59, was taken to a hospital, where he died.
State Medical Examiner's Office spokeswoman Amy Elliott said an autopsy would be performed.
Police said an altercation started inside the building and spilled into the parking lot, where bystanders helped subdue the attacker until officers arrived.
Christian Costello was taken into custody in the parking lot and arrested on a first-degree murder complaint, Balderrama said. He remained in police custody Monday.
Balderrama said he did not know whether the younger Costello had an attorney who could comment on the allegations.
Condolences poured in from state officials.
"Our hearts ache as an agency for this tragic event and our department grieves for his family during this very difficult time," Labor Department Chief of Staff Jim Marshall said in a statement.
Costello was married with five children.
"I'm just numb right now, as many of us are," Oklahoma Republican Party Chairman Randy Brogdon said. "He was a great Christian, a good man and a wonderful husband and dad. He is going to be sorely missed."
Republican U.S. Sen. James Lankford also lauded Costello, saying in a statement he was "passionate about our nation, conservative fiscal principles, and the people of our state."
"Mark was a friend, and as we grieve, we will also pray for his family as they deal with this unbelievable tragedy," Lankford said.
A successful businessman from Bartlesville who founded a telephone software company in 1984, Costello ousted the incumbent Democrat with 64 percent of the vote during a Republican sweep of statewide offices in 2010.
Costello faced criticism for comments he made in 2011 in which he compared state bureaucrats to "feral hogs," a comment he later said was "an unfortunate animal analogy."
___
This story has been corrected to show that the suspect's mental health issues were raised in court records, not police records.