Receipt from UNT campus eatery refers to student with racial slur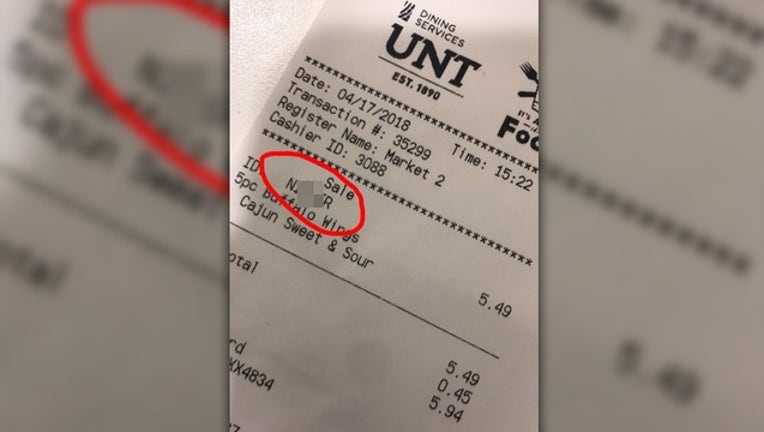 DENTON, Texas - A University of North Texas student wants answers after she says a student employee referred to her using a racial slur.
Chelsea Shaw posted a copy of her receipt on Twitter after she bought from the Krispy Krunchy Chicken Restaurant in the student union on campus. In the receipt, Shaw was referred to as "n***er."
The university's president responded directly and fired the employee. But Shaw and her attorney wonder whether the right person was held responsible.
UNT says it swiftly dealt with a recent incident Tuesday on campus.
Shaw, a communications student, posted a copy of her receipt when it happened on Twitter.
Justin Moore, Shaw's attorney, wouldn't let her speak directly to FOX 4. He says Shaw was headed home after a day of classes and decided to get something to eat. When she noticed the slur on the receipt for chicken wings, she immediately asked for the manager who apologized.
"We want an apology from the employee who made these remarks," Moore said.
The university says after Dining Services conducted an investigation, it fired the student-employee responsible on Tuesday.
The university president added in a statement, "From listening to discussions in social media, it appears as though assumptions are being made about the race of the person responsible. It is important to know that both the customer and the employee were the same race. And regardless of other societal views, it is my belief that the use of this term is never okay."
University reps say the fired employee was a Cook. Shaw does not dispute that the cook working there at the time was black. But she does dispute that it was the cook who did it.
"The cashier was the only person that was near a register," Moore said. "And the cook who was in her eyesight the entire time by the kitchen. So she does not believe the cook was the person who typed that on her receipt."
Shaw's attorney says they know the race of cashier but will not reveal it. But he says they want to see evidence on how the university determined who typed the n-word on the receipt, and they want the restaurant removed from the student union.
"The fact that UNT has rested their laurels on being a school that's open for diversity, minority inclusiveness, I think UNT has to rectify the situation and not try to sweep it under the rug," Moore said.
Shaw and her attorney are in talks to meet with the university president soon. Moore also says they are looking into taking legal action.