14-year-old, 2 stolen horses killed in crash along Dallas highway
DALLAS - A 14-year-old and two horses were killed early Tuesday morning after being struck by a vehicle on a busy Dallas roadway.
Dallas police said the crash happened just before 6 a.m. on Great Trinity Forest Way near Interstate 45 and shut down the East Oak Cliff interchange for hours.  
Investigators determined three juveniles were struck while riding three horses that were stolen.
The owner of the horses, Lorenza Gooch, tells FOX 4 he was watching the news this morning and on the inside knew it was his horses.
Car crashes into Forney restaurant causing 'multiple injuries'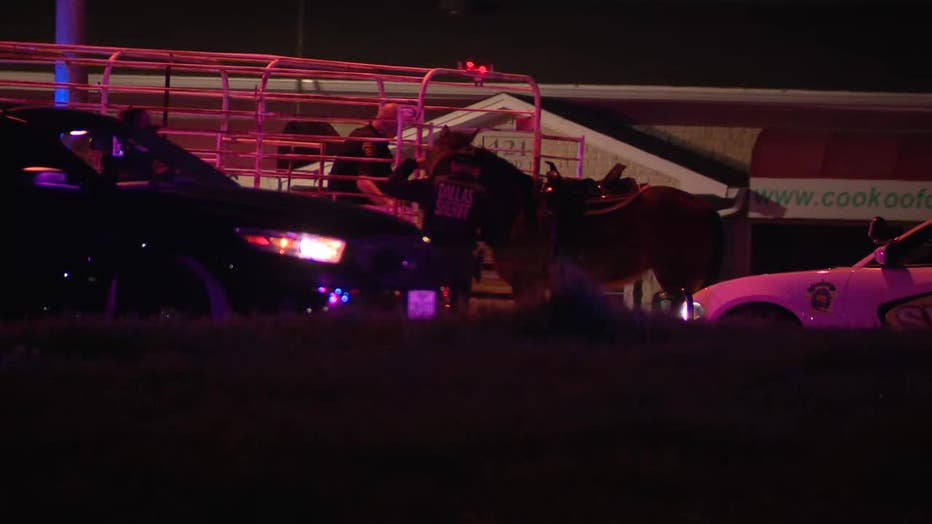 "I didn't realize he was that young, a 14-year-old? Yes, they made some bad choices. I'm kind of the victim of it. Bad choices," said Gooch.
Gooch lost two of his three horses.
He tells FOX 4 the horses that died were a 2-year-old pacing filly named Belly Wind Me Up and a 6-year-old Gelding named Waco Sassy Kid.
Dallas police arrest man accused of abandoning dog on side of the road
"They had everything blocked off and that's when we saw the horses and one guy in the street," said Scott Riegler, who works nearby.
He thought about the consequences of what happened.
"Somebody's going to have to get that phone call this morning, their son's not coming home," Riegler said.
Police first reported it was a hit-and-run, but the driver did stay on the scene and has not been charged.
Gooch's third horse, Logo Winner, survived, but was injured. She was taken to the Lone Star Equine Hospital.
"She either fell or was struck by something. She's scarred on the right side a little sore in the hind," Gooch said.
The teens were riding in saddles, but Gooch says the saddles were not his.
He races his horses on the pro circuit in chariot-style races.
"They have never been ridden," Gooch said.  "We have what we call a joy cart, and we have a racing bike."
"I race in Iowa and Minnesota. I leave normally in the summer, and I'm basically gone all summer," he said.
This is the first time Gooch has had his horses stolen.
Amon Livingston had his horses stolen twice. 
"It's a sentimental something - value to me," Livingston said. 
Lorenza Gooch says after this he thinks he's done with horses.
"It's enough obstacles in trying to race horses and enjoy the sport and two have your horses stolen and lose them this way and have to be concerned about someone stealing your horses and abusing them after they steal them," he said. 
The 16 and 17-year-old with the 14-year-old who died were taken to a local hospital. Police have provided no more information on their condition.
There is no word on what charges, if any, they may face.