TikTok Orbeez Challenge causes panic at Royse City High School
ROYSE CITY, Texas - A North Texas high school had to go on lockdown after police said a group of students participating in a popular TikTok challenge involving pellet-like guns caused a panic.
Royse City police said they got a call around 8 a.m. Friday from someone who witnessed a person in the Royse City High School parking lot point a gun at another person. The witness then saw several people running from the area into the school.
Officers from multiple law enforcement agencies quickly responded to the school, which has about 2,000 students, and placed it on lockdown believing someone with a gun may be on campus.
Sky4 was above the school Friday morning while it was in lockdown.
Investigators later discovered several students had been using airsoft or BB guns to shoot water gel pellets, called Orbeez, at each other in the parking lot. It was apparently part of the trending social media challenge called the Orbeez Challenge.
Officers found what appeared to be several airsoft pellets laying on the ground in the parking lot where the incident was first reported.
Police and school administrators were able to quickly identify five students involved and those students were detained.
The investigation determined the students were participating in the Tik Tok social media fad in which students use airsoft or bb guns to shoot pellets at other students. 
Officers recovered three airsoft rifles, one airsoft pistol, and a bb gun from the students at the school.
RELATED: Orbeez Challenge: Police warn about the dangers of the trend involving gel pellets, air guns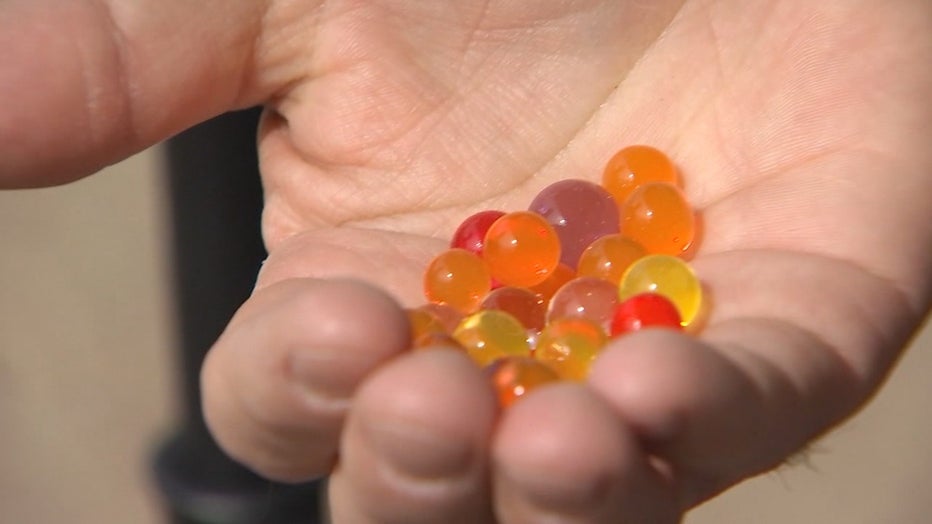 "This occurred in the parking lot before school and no students were hurt. Referred to as the Orbeez Challenge on TikTok, this is yet another senseless trend that is disrupting the school environment, causing a strain on law enforcement and is resulting in serious legal ramifications for students across the nation," Royse City ISD said in a letter to parents.
FOX 4 spoke to a woman who lives nearby who was concerned about what happened.
"You don't take it lightly, whether it be a BB gun, pellet gun, paint gun. You just don't bring that stuff to school. That's my thought," Gayla Foley said.
Foley's neighbor is a student there and described what he encountered.
"Was walking from his vehicle to the school, when the cop showed up and said, 'Run, run, run, get in your vehicle and leave,'" she recalled. "Our little neighbor showed up and he was absolutely devastated. He was so shaken up, so my husband and I just talked to him, had him take deep breaths, but he was so scared. And when they said school is back up and he said, 'No I don't want to go back today. There's too much going on.'"
Panicked parents shared their concerned on social media.
No one was hurt, but Royse City police said this is a serious situation.
"One of the most intense situations an officer will encounter is being dispatched to a school with an individual with a possible firearm. We take the situation very serious," Royse City PD Sgt. Ryan Curtis said. "Two of the toys we recovered look very similar to real firearms, and if you were to catch them at the wrong angle, you could mistake them for being real firearms."
The school district said the five students who were involved were detained and will face serious consequences. Administrators have not said what that will be. They won't be charged with a crime, though.
Police said that's because there are no charges that fit this exact situation. There was no real victim, and none of the students involved "feared for their lives."
Parents are being urged to talk to their children about the importance of making good choices and avoiding viral challenges that can have a significant impact on their future.
"And explain to them how dangerous this could be, all for a challenge, or a joke, or a game," Curtis said.
Sgt. Curtis said, in some cases, people freeze the pellets, which makes shooting them even more dangerous.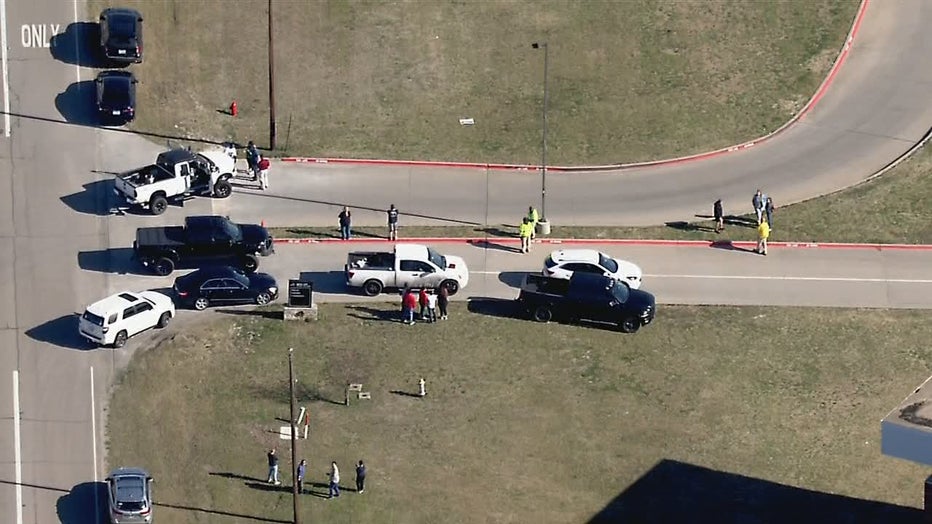 The school returned to normal operations after the lockdown was lifted.
Royse City is in Rockwall County, northeast of Dallas.
READ MORE:
New job, ride for teen driver who drove red truck in Texas tornado
Minnesota man drove to North Texas to meet 15-year-old for sex, authorities say
2 Denton police officers stabbed while trying to arrest sex offender