2 Denton police officers stabbed while trying to arrest sex offender
DENTON, Texas - A convicted sex offender is accused of stabbing two Denton police officers who were trying to arrest him at a homeless camp.
Both officers were wearing protective vests when it happened and spared serious injuries.
The two officers are said to be doing well, considering the circumstances. One has lacerations to his face and arm. Both are fortunate for their protective gear.
Gerald Kosirog had outstanding warrants out of Tennessee.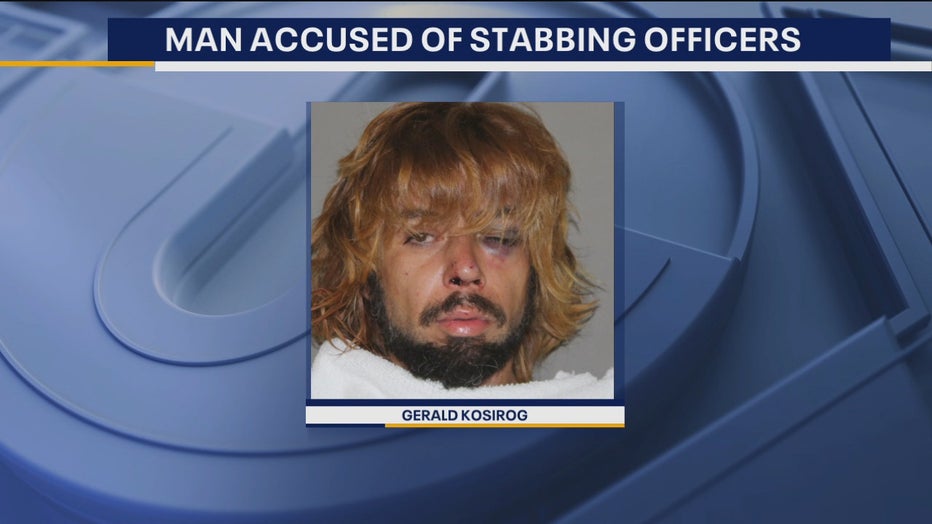 The encounter happened Thursday at a creek bed near Meadow Ridge Drive and Hinkle Drive, where a foot chase ended. 
Police said a homeless encampment sits within the nearby woods. 
Investigators said the stabbing happened as the officers did outreach, to try and connect the homeless campers with resources.
Police said Kosirog ran, then turned and attacked the officers with a knife.
'When the word went out, there were 11 policemen here, four plain clothes guys, I think were detectives. It was a lot of back up," Ron Linam recalled.
Linam typically sits in the nearby open green space to read and enjoy the weather.
He saw the scuffle that ended with the officers being injured.
Linam said he's relieved the outcome was not as serious as it had potential to be. 
"Oh yeah, it could've been a very much outcome a different way," he said.
"He suddenly produced a knife and began stabbing and slashing the officers. One of the officers, the suspect attempted to stab him in the chest. The other officer was slashed in the head and on his arm," said Allison Beckwith, with the Denton Police Department.
One officer needed stitches after being cut on the head and arm. The other was protected by his body armor and only suffered bruises.
The officers' injuries are not life threatening.
But police said if not for the officers wearing protective vests, their injuries could've been far worse.
"The blade made contact with the vest, but thankfully, because it was a rifle plates, the blade was not able to puncture the vest," Beckwith explained. "He just happened to be wearing his rifle plated vest. Had he been wearing his ballistic vest, we would be looking at probably a more serious injury to that officer."
Despite being injured, the officers managed to get Kosirog in custody. Kosirog's nose was broken in the scuffle.
He was wanted on multiple warrants on sex offender registration violations, and now faces aggravated assault on a public servant charges.
Kosirog had bond set at $80,000 for those two aggravated assault counts. That does not include what he faces for the outstanding warrants from Tennessee.
READ MORE:
Minnesota man drove to North Texas to meet 15-year-old for sex, authorities say
New job, ride for teen driver who drove red truck in Texas tornado
18-year-old dies days after mass shooting at South Dallas spring break party