North Texas school districts revisiting mask mandates as COVID-19 cases drop
DALLAS - COVID-19 patient levels in North Texas are the lowest they've been since July.
Because of that and low cases, multiple school districts have lifted their mandatory mask policy. 
Next week, Richardson ISD middle and high school students no longer have to wear masks in the classroom. 
Superintendent Jeannie Stone made the announcement Thursday night in a message to parents saying masks are still encouraged, especially for those who are not vaccinated. 
"We continue to view our younger students a bit differently because they are not yet able to become fully vaccinated," she said. "We will continue to regularly assess the remaining mask requirement at elementary."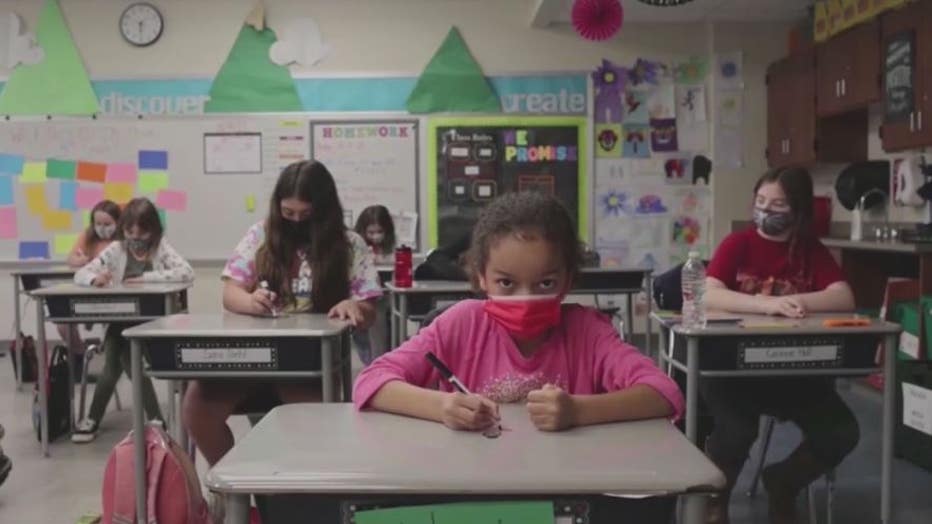 MORE: Masks soon to be optional at some Richardson ISD schools
Statewide, new COVID cases among students are the lowest since mid-August. 
In North Texas, COVID hospitalizations are the lowest since July.
Thursday, Crowley ISD in Tarrant County also lifted its mask mandate. 
MORE: Crowley ISD to lift mask mandate as COVID-19 cases drop
"It is clear we should still wear masks for the common good of others," said Superintendent Michael McFarland.
The policies vary from one district to the next.
Arlington ISD does not have a mandatory mask policy. 
Plano ISD had a temporary mandate that ended Sept. 24.
Fort Worth ISD started a mandatory mask policy, but a lawsuit in September forced the district to lift its order. 
Dallas ISD continues to have a mask mandate for all students and staff. 
Richardson ISD says they will reevaluate things if cases rise again.
"If things reverse and an outbreak should occur with substantial transmission at school or in a classroom, masks could be revisited on a temporary classroom-by-classroom basis as a mitigation tool if it becomes needed," Stone said.
The mask policy is still in place for Richardson ISD elementary students. The district says when the vaccine rolls out for younger children, they will revisit the policy.