North Texas restaurants hoping stimulus package helps them recover from losses caused by COVID-19
There's specific relief for small businesses in the stimulus package signed by President Donald Trump Friday, including a loan that could turn into a grant and be forgiven if requirements are met.
It could have a big impact on local restaurants.
Leaders for North Texas restaurants acknowledged the bill isn't perfect. It doesn't have everything they need, but it does include billions of dollars in immediate financial help to help get businesses through this hard time.
Leaders in the restaurant industry said they've taken a massive hit in revenue with restaurants all across the country suffering with the majority of their business shut down, now only limited to takeout and delivery.
The National Restaurant Association reports a loss of 3 million jobs and $25 billion in revenue nationwide.
Here in the Lone Star State, the Texas Restaurant Association said more than 300,000 workers have been laid off.
But the coronavirus aid package Congress passed on Friday could help. It provides nearly $350 billion in aid for businesses, including restaurants, caterers, and food service.
RELATED: Coronavirus coverage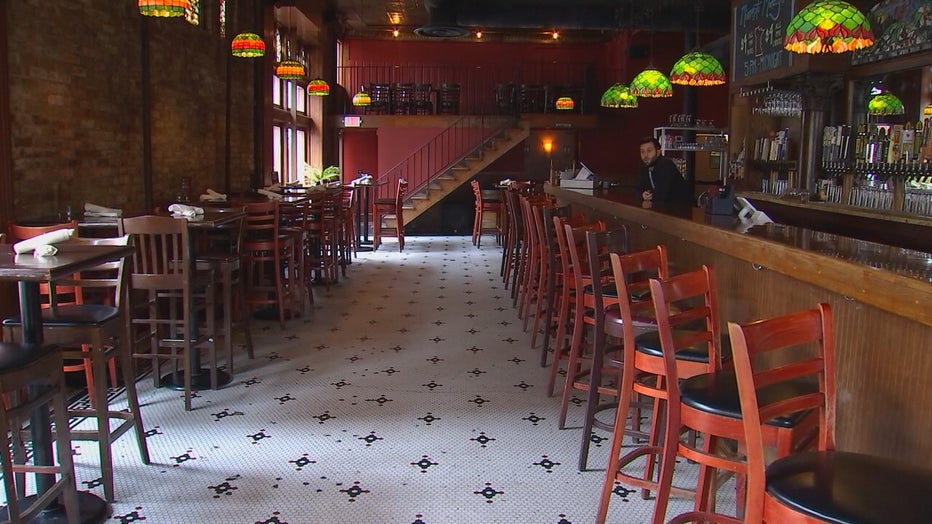 To qualify for some of the relief, employers must be able to keep most of their payroll and provide proof they had a significant loss in revenue.
"Essentially, if you laid off people that you can now bring back because you're back in operation, you have the funds now to do that, those people will not count against you for the loan you can acquire, and I think that's really critical because many of our restaurants want to take back that top talent," President and CEO of the Texas Restaurant Association, Emily Williams Black, said.
The Texas Restaurant Association said there are some shortcomings, as this bill doesn't include business interruption insurance, when a lot of restaurant owners are seeing their insurance companies not covering an event like COVID-19.
There are also concerns about how fast the loans and aid money can be processed because a lot of restaurants need help now.
"I've heard a lot of people, a lot of my friends and competitors, they're not doing so well. We're lucky we got a great fan base, and they've been coming in to support us in droves, but for how much longer who knows," said Jake Levy, with Desperado's Mexican Restaurant.
One of the most satisfying feelings for Monica Peters is seeing kids pick up new athletic uniforms. She runs Dallas East Sports.
"There's nothing greater than when people come and pick up the uniforms and they open up the box and they're like oh my gosh I'm so happy," she said.
But the thing is business has come to a screeching halt. Peters doesn't know if she'll be able to keep her employees or the business.
"All of these are orders that are ready that can't be picked up. They don't need them anymore," she said. "I don't know how this is going to end up. I just pray to God there's resources that can help us because some of the smaller businesses are not equipped to just go out and fill out paperwork for the government and hope to God you've done it all correctly."
Attorney Mishty Deb specializes in business, disaster recovery assistances. She used to work for the Small Business Administration and says many business owners don't know what options they have.
"We're suggesting that people start with the SBA loan program," she said. "Even the stimulus package that just got passed, a great portion of that is going to go through the SBA."
The pandemic allows small businesses to qualify for the SBA's disaster assistance loan. There's been confusion. However, because the newly approved $2 trillion stimulus package includes an additional loan option through the paycheck protection program, many business owners don't know if they can get both.
"I think the programs are going to work in tandem, and I think a large portion of the stimulus package will probably work through the SBA anyway," Deb said. "So I don't think it does any harm in actually putting in the loan application. And what I've been telling people is it takes time from when you put in the application to you get approved and you find out your loan amount. So at least go through the process. You don't have to take the loan once it's approved, right? But at least you know what you're comparing it against."
The paycheck protection program will have a level of loan forgiveness if employers retain their employees. The stimulus bill says borrowers that rehire employees laid off prior to the loan should still be able to qualify for loan forgiveness.
"I know a lot of employers that we've talked to, a lot of small businesses, a lot of their anxiety comes from the fact that they might have to let their employees go," Deb said.
Peters knows what she'll do with the uniform orders people are not picking up.
"I have a connection in Haiti, and the kids love sports uniforms down there. They'll wear anything," she said. "And so they enjoy getting already printed uniforms."
Deb says to also keep your eyes open for grants. For instance, Facebook is offering $100 million is cash grants and advertising credits for up to 30,000 small businesses.                     
The head of the Texas Restaurant Industry said they're waiting for information in the coming days on how fast employers will be able to apply for aid.
Members of the House also acknowledged that this is not a perfect, all-encompassing bill. They'll likely have to go back and pass larger aid packages to help get everyone out of this economic slump.