North Texas COVID-19 cases and hospitalizations falling as death counts rise
DALLAS - The recent surge in local COVID-19 cases associated with the holidays appears to be subsiding.
New cases have been averaging lower over the past few days, and new forecasts show hospitalizations may begin to drop as well.
Dallas and Tarrant counties reported a combined total of 46 COVID-19 deaths Monday. But both counties also reported a combined 2,500 new cases.
Earlier this month, Tarrant County alone was averaging more than 2,000 new cases a day. The percentage of people hospitalized with COVID is also going down, but that could change.
The seven-day rolling average of cases fell below 4,900 for the first time since the end of December. Unfortunately, the average of daily deaths jumped to 61, which is the highest since Dec. 27.
Statewide, the daily number of new cases is also falling. There were more than 9,700 cases and 208 deaths reported Sunday in Texas.
The seven-day rolling average of cases dropped to its lowest since Jan. 6. However, the average of deaths hit a new pandemic high of 326 a day.
After one of the deadliest weeks for our area during the pandemic, health officials had a bit of good news Monday.
"We have seen a plateau in numbers, and we are comforted by that," said Dr. Mark Casanova with the Dallas County Medical Society. "But we don't want to let our guard down."
A month after the Christmas holiday, hospitals appear to be on the back end of the recent surge.
UT Southwestern says hospitalizations in Dallas and Tarrant counties have decreased by nearly 5% in the last two weeks. The latest models show hospitalizations are projected to stay flat or go down over the next two weeks.
While the news is encouraging, the region remains well above 15% COVID patient capacity.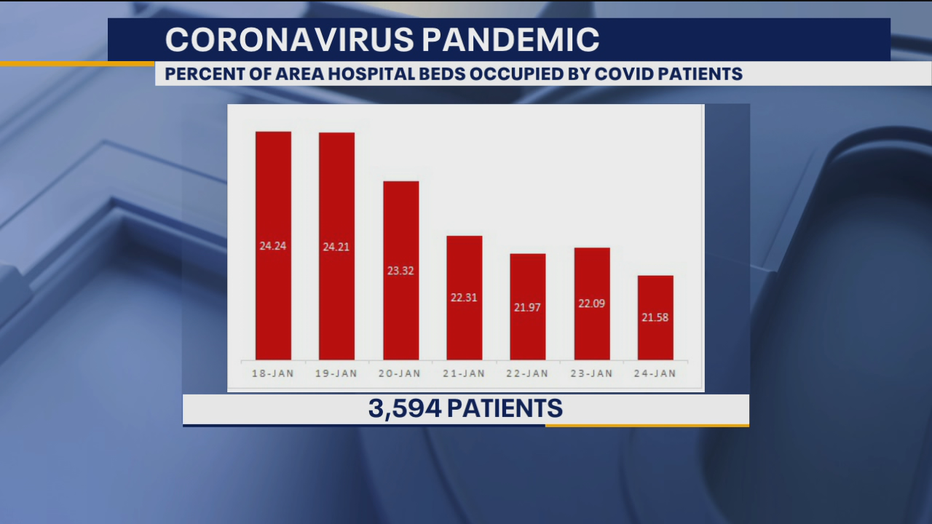 There are also concerns about the spread of mutated versions of the virus.
"With the arrival of the UK variant in Texas, specifically in North Texas, that is also on our radar," Dr. Casanova said. "We don't want to get too optimistic too soon, but take the positives as they come."
The UK variant of the virus is more contagious, and the Centers for Disease Control and Prevention is investigating data from the UK suggesting it may be more deadly.
Four people in Dallas County are confirmed to be infected with the UK variant.
There is no data suggesting at this point that treatments or the current vaccines wouldn't work against it.
"All of the things that work for the first COVID-19 variant work for any of these variants as well," said Parkland Chief Medical Officer Dr. Joseph Chang. "So just do the same thing. You don't need to be afraid."
But the rate of people being vaccinated remains slow, and they'll need to catch up as the virus evolves.
Among the cities of Dallas, Garland, the county health department and two hospitals, only 41,000 new vaccine doses will be delivered in Dallas County this week. In Collin County, just over 10,000. And just over 25,000 in Tarrant County.
The North Texas region has more than 8 million people.
"We are seeing more shots into shoulders with every passing day. We need to keep that effort up," Dr. Casanova said. "The thing to be careful about and why we are not doing a happy dance just yet, it is going to take us months to get enough shots in shoulders."
More vaccine hubs will be coming online in the coming weeks.
The Dallas location will open Thursday.