North Texas could get wintry mix Friday; TxDOT pre-treating roads
DALLAS - A cold front is coming that will plunge temperatures overnight and possibly bring some wintry weather.
A Winter Weather Advisory was issued for counties to the north and west of Dallas and Fort Worth.
This round of potential winter weather isn't expected to be anything like the last two we've had. But there could be some dicey driving conditions for some during Friday evening's rush hour.
At this point in time, the advisory does not include Dallas and Tarrant counties. But they still could potentially be added.  are monitored. 
Denton and Collin counties and points east and north from there as well as western portions of North Texas are in the advisory. 
There shouldn't be any major problems on the roadways overnight. Light rain will develop as we head toward sunrise.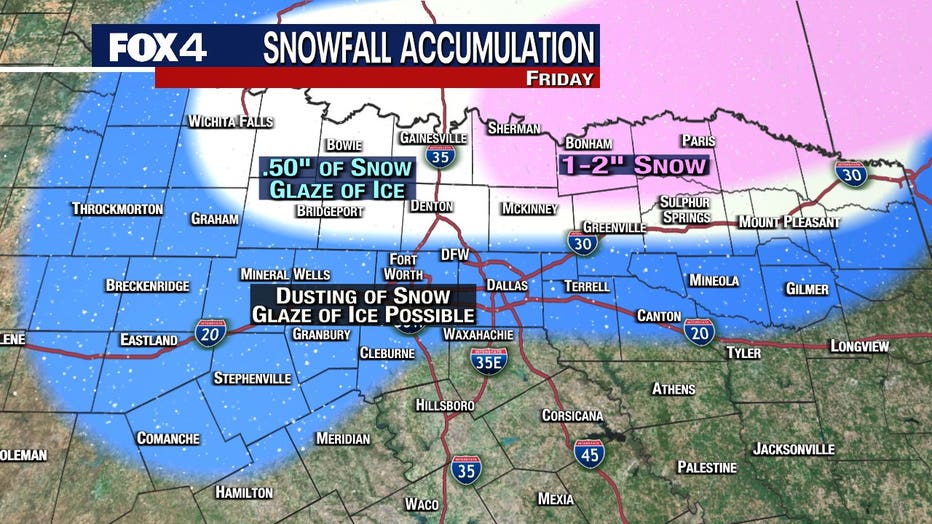 Friday morning, most people will see mainly wet roads for the morning commute in the metroplex. However, there could be some icy spots just off to our west and north, with temperatures hovering around freezing.
Parker County up into Wise County and locations west and become much more likely to see some rain and light snow mixed in towards midday into the afternoon. That could make for some slick elevated roadways.
Friday night is when the precipitation comes to an end. Gusty winds should help dry the road surfaces. 
Saturday will be chilly but dry with highs in the mid 50s.
MORE: FOX 4 Weather Coverage