Mesquite police release video of officer-involved shooting outside trampoline park
MESQUITE, Texas - Mesquite police released video of a wanted felon opening fire on police officers, who shot back and wounded him. This happened in the parking lot of a children's trampoline park last week.
Police also released the 911 call from when the suspect burst into a man's apartment with a gun earlier in the day.
Court records show the suspect, Ladarious Davis, was out on bond at the time of the shooting.
A judge has denied bond on the new charges, so he remains in custody at the Dallas County jail.
Security camera video shows the man pulling a gun from a backpack and shooting at officers outside the entrance to Urban Air Adventure Park, located off LBJ Freeway.
This officer-involved shooting happened on March 14, right around closing time for the business.
The 911 call came in a little before 4 p.m., at the Durham Apartments, near Town East Mall.
The victim reported an armed man he didn't know barged into his unit.
"He was banging on my door with a hammer and when I opened up the door, he kind of made himself into my house and he had a gun and he was looking for his sister," the victim told police.
The victim, who asked his face not be shown, told FOX 4's David Sentendrey last week that he didn't even know the man's sister.
"He cocked the pistol. Click clack," the victim said last week. "He's like breathing all hard and he's backing up, and all of a sudden, the dude just leaves."
RELATED: Mesquite man holds victim at gunpoint, fires at officers, police say
Officers eventually arrived on scene to investigate, but they never found the armed man.
While they were wrapping up, police said a family member notified them the suspect, Davis, was at a nearby indoor trampoline park.
Bodycam video shows officers approaching.
Police said Davis was armed at the time.
"Hands up, hands up, hands up," officers told Davis.
As the officer approaches a car, you hear a volley of shots.
"Gun fire, shots fired, shots fired, coming behind you, we've got shots fired," an officer said.
Mesquite police also released surveillance camera footage it said shows Davis.
It added the audio from body worn cameras to that footage.
Police said Davis fired three shots at officers, and all missed.
Two officers fired back, striking Davis.
The body camera footage then shows officers slowly approaching Davis. At one point, an officer who'd just been fired at minutes earlier encourages a fellow officer to keep calm.
"Relax, relax, relax. Take a deep breath," the officer said.
Officers slowly approached, calling out commands to Davis, who was then lying on the ground.
"Ladarious, your left arm. I want you to lift your left arm over your head so I can see it. Do it now," an officer said.
A police vehicle then arrived for cover, as officers were still cautious about the gun near Davis.
"Ladarious, if you reach toward that gun, I will shoot you. Do you understand?" an officer said.
An officer then said they need to get to Davis quicker.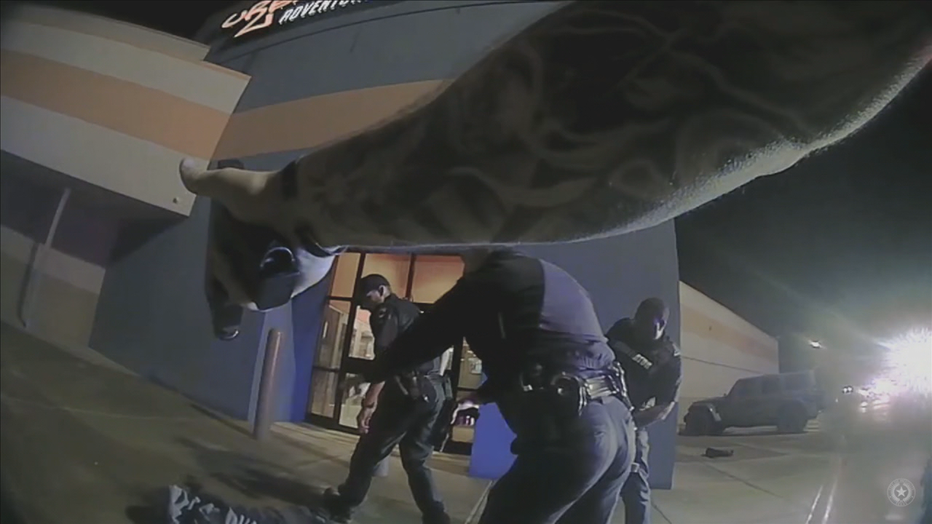 "Okay, he's bleeding a lot. We've got to push up there," the officer said.
Officers then got close to Davis provided "life-saving measures" before Davis was taken to a hospital and then released to the Dallas County jail.