Police arrest 2 men from Louisiana for Lower Greenville murder involving Dallas Cowboy
DALLAS - Dallas police have arrested two Louisiana men in connection with a murder along Lower Greenville that Dallas Cowboys cornerback Kelvin Joseph was wanted for questioning in.
The fatal shooting of 20-year-old Cameron Ray was featured on Trackdown this week. It happened in the early hours of March 18, outside a bar on Dallas' Lower Greenville Avenue.
Attorney Barry Sorrels confirmed to FOX 4 that Dallas Cowboys cornerback Kelvin Joseph was sitting in the suspect's vehicle when the shots were fired, but Sorrels added that Joseph was not a shooter and was unarmed.
Sorrels said Joseph "found himself in a situation that escalated without his knowledge or consent."
RELATED: Dallas Cowboys player wanted for questioning about Lower Greenville murder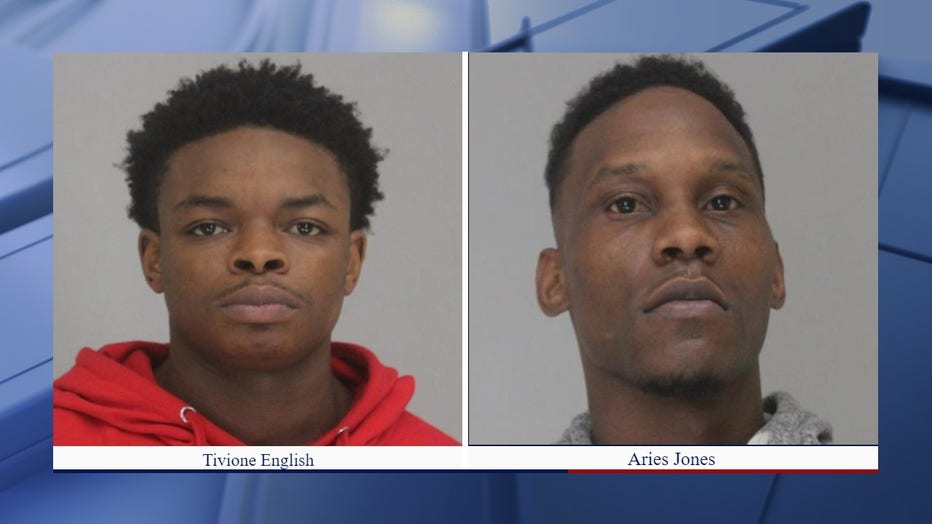 "It just feels crazy. It's a feeling I can't describe," Ray's stepmother, Krista Wigfall, said. "I see people out here singing around, look like they were enjoying their day. Just like those kids were trying to do."
Wigfall stood outside OT Tavern in Lower Greenville Sunday, just feet away from where her stepson was shot and killed.
A month after Ray's murder there was a break in the case.
On Saturday, police announced they arrested 28-year-old Aries Jones and 21-year-old Tivione English, of Baton Rouge, Louisiana. They turned themselves into police after they were identified as the shooters.
"To be able to sleep and go day by day, knowing what had happened and not saying anything," Wigfall said.
Police said the victim had come to Dallas with three friends for a fun birthday weekend, and was doing nothing wrong back on March 18. He was just walking with his friends.
Surveillance video shows a man smoking and walking past Ray and his friends.
The man said something and then threw the first punch, then a fight started.
After the fight broke up, the suspects got into a black SUV.
As Ray and his friends were walking back to their vehicle, the SUV drove by and police said English and Jones opened fire, killing Ray.
Police did not say what led them to identify English and Jones as the shooters.
"It's a relief, but it's not enough," Wigfall said.
Also in the SUV at the time of the deadly shooting was Dallas Cowboys cornerback Kelvin Joseph, according to his attorney. 
During this week's Trackdown on FOX 4, Dallas police released video asking for help in identifying six men they believe were involved in the deadly shooting. 
One of them was seen wearing a necklace reading "YKDV."
The Cowboys cornerback is also an aspiring rapper with the name "YKDV Bossman Fat."
Once the video was public, Wigfall said people on social media recognized the second year cornerback. 
That's when tips started pouring in that pointed to Joseph.
"I am always thinking like, what can I do? Can I do more?" Wigfall said.
So Wigfall called The Star in Frisco Thursday morning. 
Later that day, she said a Cowboys staff member called her back. 
"He is supposed to be a professional athlete. When you hear professionals, you assume professionalism. Nothing like going 24, 25, 26, 27 days going on with your life and conditioning for football and going on like nothing happened," Wigfall said.
Joseph's attorney said Joseph did not shoot and was unarmed.
As of Saturday, Joseph has not been arrested or charged. 
"I just hope that the detectives and Dallas police are doing it as if it was their child, because he was celebrating someone's birthday and it shouldn't end like that," Wigfall added.
There was no additional comment from the Cowboys Saturday. On Friday, they released a statement that they were aware of "Joseph's possible connection" to this murder investigation.
TRACKDOWN: Help find Cameron Ray's killer