Latest on police-custody death: Protesters in tense standoff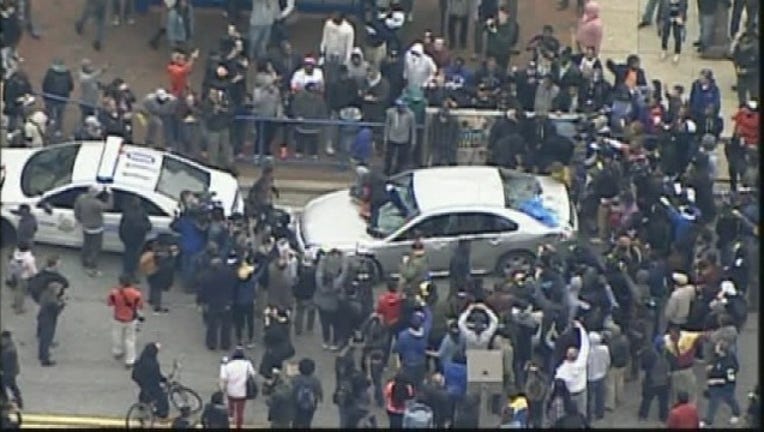 article
A tense standoff between protesters and police continues downtown with officers and Freddie Gray demonstrators.
Officers in riot gear with batons are pushing the crowd back. Some protesters have run toward the line of officers, which also includes several mounted officers. At least three people were taken into custody.
Police said in a Tweet that "isolated pockets of people from out of town causing disturbances. We are deploying resources to keep everyone safe."
A downtown wedding had to be moved inside after another group of protesters engaged in a standoff with officers. Nearby, there were several cars with broken windows.
Police are calling for officers scheduled on later shifts to report for duty immediately.
One protester broke out the window of a police cruiser, grabbed a police hat inside and wore it while standing on top of the cruiser with several other protesters. At that point, scores of officer rushed into the area, stopped and formed a line, three officers deep. The protesters scattered but returned a few minutes later and began yelling "What do we want? Justice! When do we want it? Now!"
Meanwhile, the Orioles game against the Red Sox got underway in the stadium nearby.
7 p.m.
Smaller groups of Freddie Gray protesters have split off from the main demonstration, throwing cans, bottles and trash cans at police, storefronts and restaurants.
At least two people have been injured.
A group of roughly 100 protesters broke out a window of a department store with a chair they got at a restaurant across the street at The Gallery, a downtown shopping mall. No police officers responded.
A few minutes earlier, the same group broke the windows of bars restaurants, including a Subway sandwich shop near Camden Yards, tossing chairs and tables through the glass. A woman inside one of the restaurants jumped in front of the protesters and begged them to stop throwing things.
At least two bystanders -- a man and woman -- were bleeding from the head. Some people were struck by beer cans, bottles and trash cans. That group also engaged with a group of fans at a bar near the baseball stadium and fights broke out.
------
6:30 p.m.
Scores of rowdy protesters are crowded outside of Camden Yards, where the Baltimore Orioles are expected to play the Boston Red Sox at 7:05 p.m.
One protester threw something at a police car parked at Camden Yards, and kicked the windshield, cracking it, while other protesters were throwing cans and plastic bottles in the direction of police officers.
At least one protester jumped on a police car.
From inside the stadium, people watched the protesters gather.
The demonstrators are interspersed with people trying to make their way toward the gate for the game, and fans are winding their way through the protesters.
Police officers outside the stadiums were wearing riot helmets.
Meanwhile, near the Inner Harbor, a group of more than 100 protesters blocked traffic as motorists became increasingly frustrated, with one getting out of the car.
------
6 p.m.
Crowds have almost entirely dispersed from City Hall, with smaller groups splitting off to head toward the Inner Harbor and Camden Yards.
Malik Shabazz, one of the protest's organizers, said demonstrators are "here to give a voice to the voiceless" after the death of Freddie Gray, a 25-year-old man who died April 19 after suffering a traumatic spinal injury in police custody.
"There's a new force out here that's on the streets with this police brutality movement," Shabazz said. "It consists of lawyers, activists and community persons who will continue to fight for justice."
------
5:30 p.m.
Thousands have flooded the grassy plaza across from City Hall as the group of Freddie Gray marchers met those already demonstrating downtown.
The crowd flowing into the plaza was met with cheers.
Wearing a sign around his neck that said "I am Freddie Gray" 33-year-old Dante Acree said he came out to the protest because "it could have been one of my kids."
"It could have been my brother, my father," he said. "I'd want the same support."
West Baltimore resident Andre Bazeman, 42, said he has three children, including two boys.
"It hits home for me," said Bazeman, who had a sign around his neck reading "black men are being hunted in the streets of America."
"I've been harassed, I've been locked up," he said. "The police have a job to do, but just do your job. No more, no less. Work with us, not against us."
------
4:30 p.m.
As the protesters continued on from Camden Yards toward City Hall, it paused at a nearby intersection where roughly a dozen people lay down in an impromptu "die-in," stopping traffic.
Meanwhile, the crowd at City Hall continues to swell in the demonstration of the police-custody death of Freddie Gray. Rallying speeches have started while some hecklers have lined up at the police barricade to shout at officers.
Tanya Peacher, a 36-year-old Baltimore resident said she'd never attended a protest in the city before, but watching a video of Gray's arrest, motivated her.
"I looked at my son," she said, recalling the video, "and thought `that is my son."'
------
4:15 p.m.
Protesters filled the streets behind Camden Yards, where the Baltimore Orioles are hosting the Boston Red Sox at 7 p.m.
At least 50 officers are standing guard at the stadium gates, with more officers nearby.
Earlier, at City Hall, Leonard Patterson, 56, said he drove from Manassas, Virginia, to be a part of the protest. Patterson said he decided to come after thinking about his college-aged daughter.
"I'm trying to do everything in my limbs, everything in my power, to make this a better world for her," said Patterson, holding up his black and white drawing of Freddie Gray, who died April 19 after suffering a fatal injury to his spine while in police custody.
The drawing shows Gray being hoisted from a police van to heaven by two angels.
"I'm here to do what I can. Police brutality is as old as the 1950s, the 1960s. It's still here," he said.
------
4 p.m.
At least a thousand protesters are making their way from West Baltimore to City Hall.
The racially diverse crowd is filling at least two full city blocks, and waving signs that read, "racism is a disease, revolution is the cure."
Marchers paused for a moment of silence in front of Shock Trauma, where Freddie Gray died a week ago from a traumatic spine injury he suffered while in police custody.
At the back of the march is a caravan of at least 20 cars blocking the traffic on the periphery of Camden Yards, where the Baltimore Orioles are hosting the Boston Red Sox.
Protesters and the curious are steadily streaming into the plaza directly across from City Hall. Some are wearing shirts that say "black lives matter" and holding signs that state "I'm not a threat" and "Stop killing us" as music and civil rights speeches are played through large speakers.
Justice Allah, 30, who is with Black Lawyers for Justice, said the goal of the protest is to call attention to the problem of killings by police officers.
"We're tired of this, what is going on with this police department," Allah said. "We're tired of our mayor turning a blind eye."
------
3:30 p.m.
The police officers' union says it is "disappointed" in the comments made by Police Commissioner Anthony Batts on the death of Freddie Gray, who died after he was injured in police custody.
A statement from the Baltimore Fraternal Order of Police Lodge 3 on Saturday called Batts' comments "politically driven, and in direct contrast to the commissioner's own request not to jump to any conclusions."
Batts said Friday that Gray should have been buckled in a seat belt in a police van and officers failed to give him medical attention in a timely manner multiple times.
------
2:45 p.m.
Several hundred demonstrators marched through the streets of West Baltimore, where a crowd had gathered at the site of the arrest of 25-year-old Freddie Gray.
Gray died a week ago after sustaining injuries while in the custody of Baltimore police.
Marchers gathered earlier in the day at a police station near Gray's arrest. Barriers were put up around the Western District police station.
Outside the station, people held yellow and black signs that read, "Community control of police now!" "Jail killer police!" and "Unite Here!"
------
1:40 p.m.
Crowds are gathering in Baltimore's Sandtown neighborhood, where 25-year-old Freddie Gray was fatally injured while in the custody of Baltimore police.
March organizer Malik Shabazz used a bullhorn to urge a crowd near the Western District police station house to join the march.
A much larger crowd is expected to gather at City Hall at 3 p.m.
Demonstrators have flooded the streets of Baltimore almost every day since Gray's death. They are demanding answers from the city and the police department about what happened to Gray, and what went wrong.
Gray was arrested on April 12, and died one week later.