Large hail impacts parts of northern Tarrant County
KELER, Texas - Many people in Tarrant County are preparing to file insurance claims because of all the hail damage that came with Wednesday night's severe weather.
The city of Keller, north of Fort Worth, got the brunt of the storm. Dozens of vehicles were damaged in Keller Town Center.
Jeff Harshbargen had two vehicles parked outside a hotel now has to get both repaired. He said his family is staying there because their home was damaged by broken pipes during February's winter storm.
The Care Now medical clinic that Lepaul Evans works at took a serious hit from the hail. He was there when the severe weather struck and saw lots of vehicles banged up by the hail.
Evans said it was not pleasant to be out there when the worst part of the storm arrived.
"Tennis-ball-sized. We knew that when it was slamming against the windows. The windows here are pretty thick so it was like, you know, hoping our cars could withstand it. But as you can tell, everybody's vehicle took a real bad beating," he said.
"It sounded like it was coming through the roof. It was coming down hard. It was like bang! We were huddled together in the bathroom," Bryce Davis added.
Davis said he's seen some pretty sizable hail storms in North Texas but this was the worst he's seen. After the storm, hail was everywhere. He said it looked like a field of snow covering the yard. He and others will begin assessing the full extent of their property damage in the daylight.
Body shops around Keller are filling to the brim. But at Mason's Paint & Body, it isn't just vehicles that show the havoc of the hail storm.
"We've been dealing with leaky ceilings and water on the floor and water on our desk and people coming through all day long needing help," said owner Dena Mason.
The hail was big enough to punch through Mason's roof.
It wasn't at all that surprising given the National Weather Service received reports of hail in Keller as big as 3.25 inches late Wednesday.
"The vast majority of our claims right now are coming from North Texas, specifically Tarrant County," explained Camille Garcia, with the Insurance Council of Texas.
The organization reports there has already been more than 7,500 claims across the state. Some have been damage to roofs, but it's mostly been damage to vehicles. But it's just not surface damage.
"We're seeing a lot of cars that are simply not drivable because it's not safe to do so," Garcia said. "We see a lot of windows, windshields blown out that of course means water intrusion which can do unknown damage to your electrical system."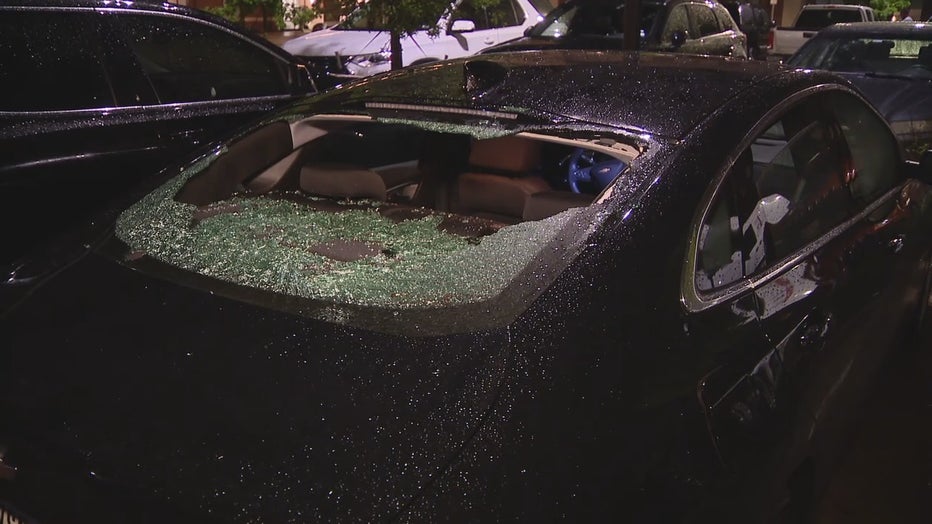 People used plastic wrap, blankets, duct tape or whatever every they could find to cover up damage to vehicles from hail that ranged in size of golf balls to larger than baseballs.
"The tail light was broken. Just damage I didn't even know could happen with hail," Alethea West said.
Some busted out windows remain exposed.
"It sounded like there was an army of men up on top of the roof with baseball bats beating on the roof. That's what it sounded like, an army of men beating the roof," Jeff Florence
Florence and his wife, who were at the Hampton Inn Wednesday evening, said this was the worst hail damage they can recall for the 24 years they've lived in Keller.
A few miles away, water damage and exposure took a toll on the nonprofit Community Storehouse. A boutique where the group sells donated items amounts for 60% of their funding.  
"We have furniture, we have clothing, we have books. We have high-end items that are going to be a complete loss," said Megan Stiller, with Community Storehouse.
Keller's mayor said thankfully they have had no reports of injuries. As of now, they don't anticipate there will be any sort of disaster declaration.
RELATED: 3 hurt, several mobile homes damaged by straight-line winds near Azle
Heavy rain and strong winds also hit the Parker County community.
Parker County Emergency Services said wind gusts destroyed several mobile homes near Eagle Mountain Lake. Three were hospitalized with minor injuries.
Strong winds ripped off a part of a metal awning from a home in Weatherford. FOX 4 viewer Jennifer Goodwin shared the video.