3 hurt, several mobile homes damaged by straight-line winds near Azle
AZLE, Texas - Several mobile homes near Eagle Mountain Lake in Parker County were destroyed by strong winds during Wednesday night's storms.
A family inside a mobile home was rescued after strong, straight line winds flipped and rolled it off its foundation.
"Twice, it rolled two times. It would've rolled three times, but the house that's behind it, my mom's bedroom is inside that house. That's the only thing that stopped us from rolling even more," Dakota Smith said.
Parker County Fire Marshal and Emergency Management Coordinator Sean Hughes said three people were taken to the hospital after their home blew over during the storm. Those injuries are not life-threatening.
"We had damage all across Parker County. We had some concentrated damage in the Friendship Road area, also the Enchanted Rock Circle area. And in working with the National Weather Service we have determined this damage was caused by straight-line winds caused by the storms that moved through the county last night," he said.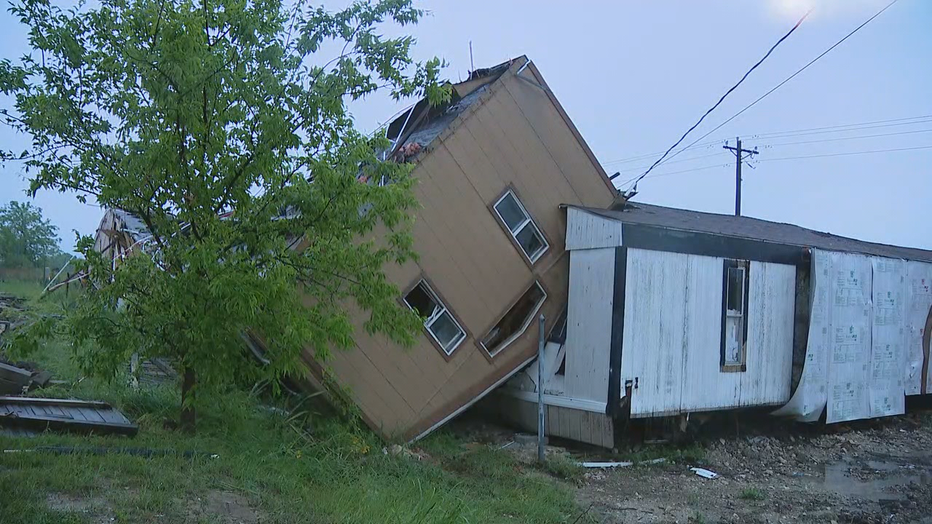 The NWS estimates the wind gusts reached speeds of up to 70 or 80 miles per hour in those areas.
Strong winds ripped off a part of a metal awning from a home in Weatherford. FOX 4 viewer Jennifer Goodwin shared the video.
"As the sun comes up this morning, folks are surveying the damage and collecting that debris and that's kind of the aftereffect of these types of storms is trees and the other debris that is on folks' property," Hughes said.
He encouraged residents to first make a call to their insurance company and then take lots of pictures of the damage before making repairs.
RELATED: Large hail impacts parts of northern Tarrant County
In Keller, people used plastic wrap, blankets, duct tape, or whatever every they could find to cover up damage to vehicles from hail that ranged in size of golf balls to larger than baseballs.
"The tail light was broken. Just damage I didn't even know could happen with hail," Alethea West said.
Some busted out windows remain exposed.
"It sounded like there was an army of men up on top of the roof with baseball bats beating on the roof. That's what it sounded like, an army of men beating the roof," Jeff Florence
Florence and his wife, who were at the Hampton Inn Wednesday evening, said this was the worst hail damage they can recall for the 24 years they've lived in Keller.
Florence and his wife have been at the Hampton Inn for 11 weeks now because of damage and busted pipes at their home during the February winter storm. 
 "We've got to check on our house, which is about five miles from here. Hopefully there's no damage there," Florence said.
A few miles away, water damage and exposure took a toll on the nonprofit Community Storehouse. A boutique where the group sells donated items amounts for 60% of their funding.  
"We have furniture, we have clothing, we have books. We have high end items that are going to be a complete loss," said Megan Stiller, with Community Storehouse.