Jacksboro ISD students will return to schools damaged by EF-3 tornado next week
JACKSOBORO, Texas - Students in the Jacksboro school district northwest of Fort Worth will return to class next week after an EF-3 tornado damaged two schools.
Jacksboro ISD said staff members will return Monday for a workday and students will be back on Tuesday.
While the high school will be ready for them, the elementary school needs more time. Those students will be spread out in other locations for class next week.
The district is working with a company for debris removal, demolition of unstable buildings and classroom repairs.
RELATED: Texas tornado outbreak: 10 confirmed tornadoes rip through North Texas, 1 dead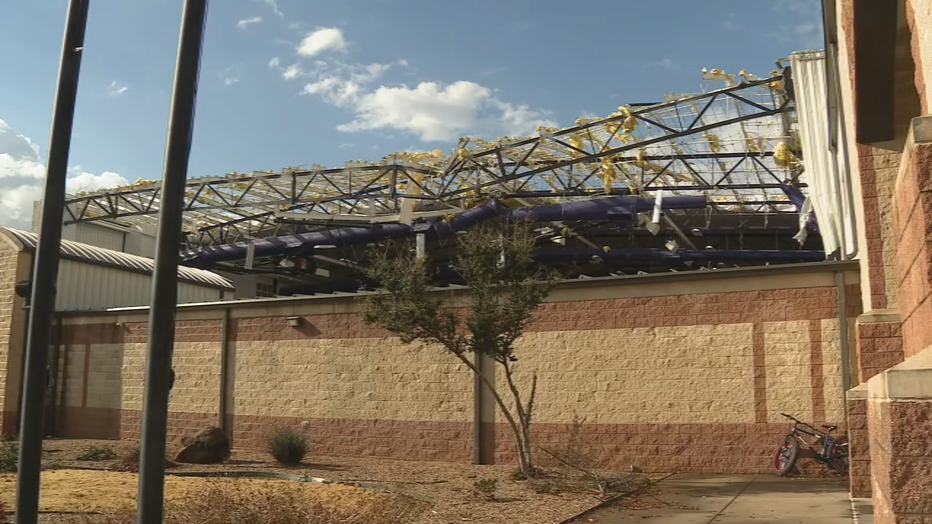 Photo shows the damaged roof of Jacksboro High School after a reported tornado swept through the area Monday night. 
Both campuses will also need temporary roof replacements.
Jacksboro ISD said engineers will ensure the buildings are safe before any students and staff go inside.
The EF-3 tornado hit the elementary school the hardest, damaging the gym and the school's cafeteria. 
Next week, those students will have class at nearby churches or the middle school, which was not damaged in the storm.
Jacksboro Elementary School will release a schedule with the temporary location of each grade level by Monday afternoon.
RELATED: Jacksboro High School softball, baseball games go on as planned despite tornado damage