Icy roads, wrecks continue as bitter cold sets in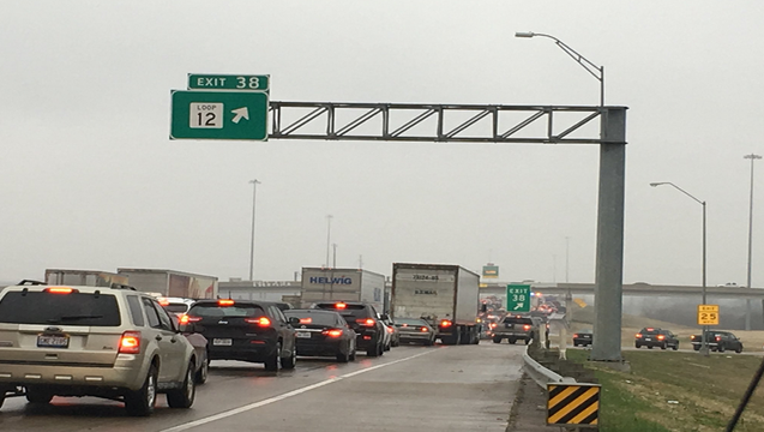 Update: The National Weather Service is warning that icy conditions will continue even after the freezing drizzle and light snow move out.
MedStar EMS in Fort Worth reported 89 vehicle crashes with injuries on Sunday morning, including five rollover accidents. MedStar also treated 10 injured people who slipped on ice and fell.
In Grand Prairie, icy conditions shut down the EB I-30 ramp to NB Bush Turnpike.
TxDOT reports icy conditions on I-35 through Gainesville and on Hwy. 75 from Van Alstyne through Sherman. The agency is urging people who do not need to travel to stay off the roads.
The Winter Weather Advisory for most of North Texas, including Dallas and Tarrant counties, was extended until 3p.m. Sunday. Temperatures dropped below freezing Sunday morning across the area and are not expected to warm up again until Wednesday.
Original: Temperatures are dropping across North Texas as a powerful cold front brings subfreezing weather that will last until midweek.
Light snow was reported to the north and east of Dallas-Fort Worth, including a light dusting in Bonham near the Red River.
The National Weather Service expanded the Winter Weather Advisory until noon Sunday across much of North Texas, including Dallas and Tarrant counties. The biggest concern is freezing drizzle that could create slick roads. TxDOT said it pre-treated 10,000 miles of roadway with a brine solution to keep ice from sticking.
A Wind Chill Advisory is also in effect until noon Monday, with wind chills in the teens and even single digits expected by the time New Year's Eve festivities get going on Sunday night.