Grocery stores struggling to meet demand as North Texans venture out to restock pantries
DALLAS - Days of being pent-up at home must have emptied a lot of fridges and pantries.
Grocery stores across North Texas were extremely busy, leaving empty shelves that usually hold the staples.
Friday, shoppers in Dallas felt safe grabbing groceries following this week's winter storm. But some were met with long lines and bare shelves. 
Cameron Fields left the Walmart Neighborhood Market in Uptown with several items still missing off her list. 
"I had to park all the way in the back of the parking lot. I was like everyone had the same idea that I did," she said. "It was hectic. It was horrible. There was barely anything on the shelves. I didn't find a lot of my vegetables. A lot of veggies were gone."
Dallas Weather: Flying ice damages cars as North Texas thaws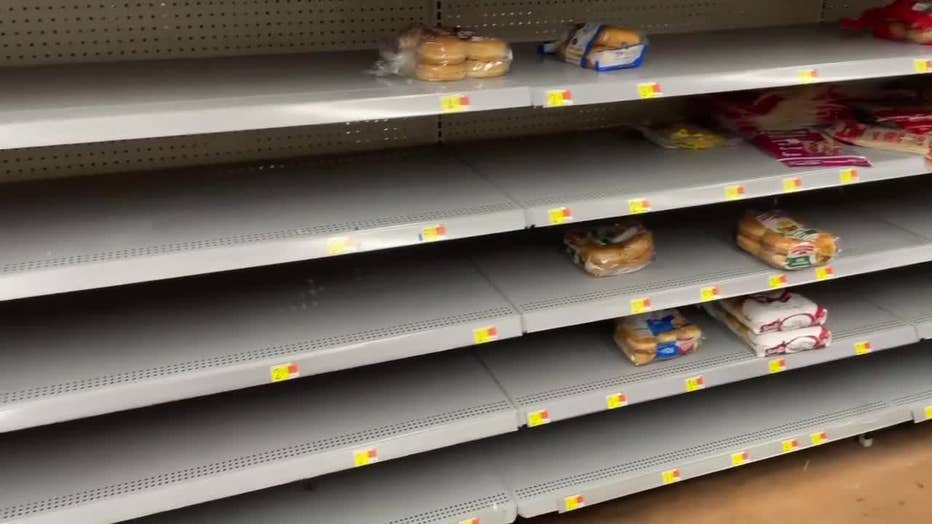 The refrigerated lunchmeat was also low in stock, along with breakfast food items including bacon, sausage, orange juice and milk. 
The egg section was empty, and the bread inventory was virtually wiped. 
It was a similar story at the Tom Thumb at Oak Lawn and Blackburn.
While there was plenty of milk and eggs, the pasta aisle was starting to look bare.
Richard Standford grabbed one of the last loaves of bread and treated himself to Diet Coke and strawberry ice cream. 
"I had no idea because most of us got out today. I had no idea it would be that bare that quick," he said. "I had cabin fever like I can't explain."
Nancy Matlock had better luck than she expected at the busy Walmart Supercenter off Northwest Highway near Love Field. 
Roads refreeze overnight leading to dangerous driving conditions in North Texas
"Cottage cheese. That is a savior for me," she said. "I was very pleasantly surprised."
However, sections were still waiting to be restocked. 
Patrice Rose's pantry was in need of a grocery run. Even with some small selection, she says she's just pleased to finally be out of the house.
"I did expect it with the ice. The trucks were not able to do what they needed to do," she said. "My dad is a truck driver, so I understand the process."
Even during the mad dash, employees who were busy restocking the shelves. 
Some customers tried to do the pick-up option, but even then shoppers showed up to learn several items were out of stock.