Gov. Abbott signs bills addressing Texas' power grid failures
Gov. Greg Abbott signed two bills Tuesday aimed at preventing another statewide power catastrophe.
One increases governance over the board that oversees electricity while the other sets requirements for the weatherization of some power plants.
February's winter storm caused outages that left millions without electricity for days and at least 150 deaths. State politicians seemed pleased with the new legislation on Tuesday, but some experts wonder if enough was done to avoid a future catastrophe.
CONTINUED COVERAGE: Texas Winter Storm 2021
"A top priority we had this legislative session was to fix the power grid to prevent any other power grid failure in the future. The legislature passed comprehensive reforms to fix all the flaws that led to the power failure. There is now greater accountability in the system than ever before," Abbott said. "There is improved weatherization, weatherization of power generation, natural gas and transmission facilities to better handle extreme weather."
Senate Bill 3 mandates weatherization upgrades for power generators and transmission lines, but only some critical natural gas systems -- which actually supply the power plants.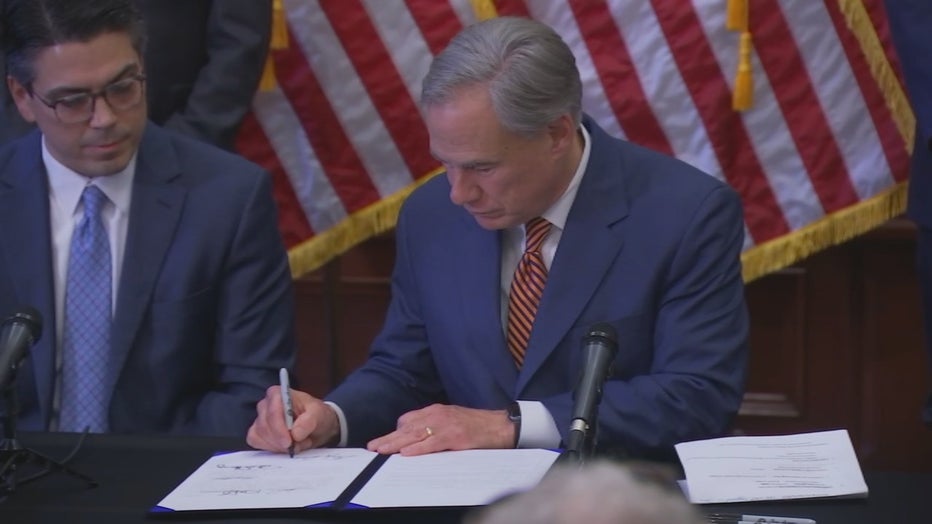 The Electric Reliability Council of Texas, the agency that oversees the state's power grid, must now inspect the facilities along with the Texas Railroad Commission. Those that fail to weatherize could face penalties of up to $1 million, the governor said.
The new law also orders a study for an emergency alert system that would warn people of power outages, similar to an Amber Alert.
"I'm very proud of the legislature and what we were able to accomplish in a very short amount of time to make sure when you turn a light switch on it stays on," said State Sen. Charles Schwertner, (R- Williamson County).
"Everything that needed to be done was done to fix the power grid in Texas," Abbott said. 
"I do not agree," said Michael Webber, an energy professor at UT Austin. "There are several important things that the legislation did not tackle."
Some in the energy community say the law is a good start but does not go far enough. 
"The truth is we remain vulnerable for another storm event like this, this next winter and a few winters after that," Webber said.
Rice University Professor Daniel Cohan is not sure the bill has enough power in it to keep Texans from extended blackouts in the future.
"That would really take three dimensions: addressing supply, addressing demand and addressing the transmission that moves electricity between them. This bill only really addressed the supply piece and didn't go far enough to ensure supply is fully protected against extreme events," Cohan said.
None of the upgraded weatherization will be required until 2022. 
Experts estimate weatherization for all power plants will cost billions. The law does not provide a funding plan for weatherization. 
"Eventually, we are going to pay for it," Webber said. "The details of if its ratepayers or taxpayers is very important, but the system is going to pay for it. When California had their energy crisis in 2000-2001, it took them 20 years to pay off the debts."
Some bills were proposed that would provide a funding source. The Texas Speaker of the House told FOX 4 months ago that lawmakers could explore using the state's rainy day fund. However, that plan got no traction.
Webber says lawmakers need to pass similar bills for gas companies and make a deadline for all energy generators. 
"The next thing they need to do is require the gas system to meet the same expectations for reliability and safety as the power system in terms of winterization," Webber said. "We gotta have the gas system winterized so that it can provide gas to the power plants that are winterized."
ERCOT Reform
Senate Bill 2 gives politicians more power over public utilities. The second of the power bills reforms ERCOT and its board.
The state's leaders – governor, lieutenant governor and speaker of the House -- will now have a bigger role in deciding who sits on the ERCOT board, which is shrinking from 16 to 11 members.
"We found in our conversations and hearings that there were some conflicts of interest. We blew it up. It is a completely independent board now, whose 100 percent focus, its entire goal is making sure that ERCOT stays strong reliable, stable and affordable," said St. Sen. Kelly Hancock (R-Tarrant County).
The governor also appoints the members of the Public Utility Commission.
"I think that the legislature at least reformed, if you will, the bodies that are largely responsible for the natural gas and the electric utility regulation in the state," said Dr. Bruce Bullock, SMU.
RELATED STORIES:
Texas lawmakers pass bills addressing power grid failure
Former members Public Utilities Commission make recommendations to improve Texas power grid
Nobel Prize-winning economist weighs in on failure of Texas power grid