Gov. Abbott closes Texas schools until May 4, issues list of essential services
AUSTIN, Texas - Gov. Greg Abbott said on Tuesday all Texas schools will remain closed until May 4 and released a list of essential services allowed to operate, but did not issue a statewide shelter-in-place order.
Abbott said his executive order means social distancing measures will remain in effect through April 30, in conjunction with the federal government's guidelines.
Texas is the largest state without a stay-at-home order. And while the updated rules restrict movement more, the governor said Texans have done a good job at social distancing and limiting person-to-person contact.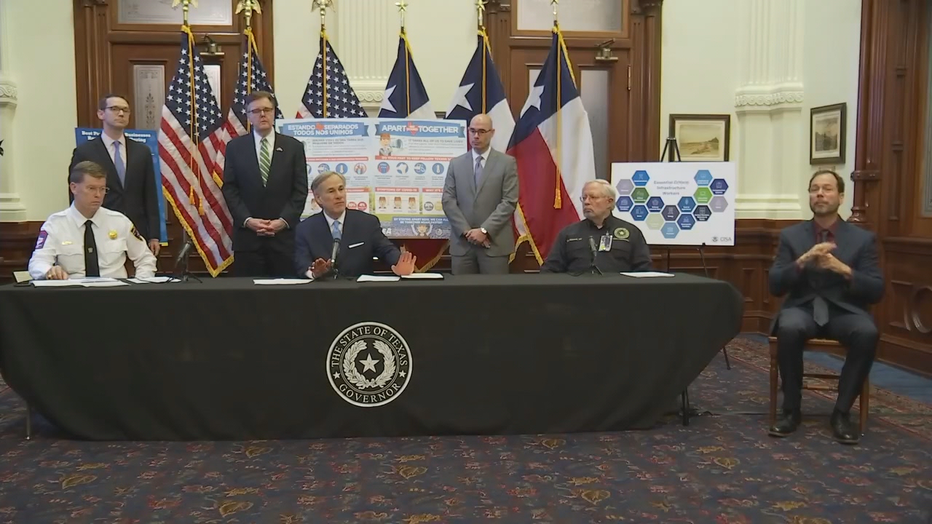 "Shelter-in-place is not a good term to use for any of these strategies that have been articulated by anybody. Similarly, this is not a stay-at-home strategy. A stay-at-home strategy would mean that you have to stay at home. You cannot leave under any circumstances. That obviously is not what we have articulated here," Abbott said.
RELATED: Coronavirus coverage
The essential services are: Healthcare / public health; law enforcement, public safety, and other first responders; food and agriculture; energy; water and wastewater; transportation and logistics; public works and infrastructure support services; communications and information technology; other community- or government-based operations and essential functions; critical manufacturing; hazardous materials; financial services; chemical; defense industrial base; commercial facilities; residential/shelter facilities and services; hygiene products and services.
Religious services conducted in churches, congregations, and houses of worship are also included and deemed essential but must obey social distancing and capacity guidlines.
Tuesday's updated executive order also uniformly keeps Texas schools closed until Monday, May 4 at the earliest. Texas Education Commissioner Mike Morath said the continued closure of campuses is necessary.
"For the parents listening at home, we will work thorugh this, we will get through this together. For a little bit more time we all must remain apart so that we can come back together. Our educators, working with love and diligence, are doing everything in their power to support parents and will continue to do so for the duration of this executive order and beyond," Morath said.
Abbott was not direct about it and refrained from calling the executive order a "stay at home" order, rather dwelling on what essential services are.
"In short, what this provides is that Texans are expected to limit personal interactions that can lead to the spread of COVID-19 while also still having the freedom to conduct daily activities."
Dallas County Judge Clay Jenkins says it's good news.
"Good news tonight. The order aligns with Dallas County. It's shorter but the same," Jenkins said. "All of North Texas, now that the state is now aligned, are safer than the last 10 days."
The Texas Nurses Association sent a letter to the governor Tuesday, stating: "The Texas healthcare community is becoming increasingly concerned as Texas case counts continue to climb and frontline supplies continue to wane…projections…are dire…the chief priority right now is preventing the spread…the time has come for Texas to issue a statewide stay-at-home order."
"It's like we're preparing for a tsunami," said Serena Bumpus with the Texas Nurses Association. "All the water has been sucked out of the ocean, and now we're waiting for the wave to hit. But we don't really know how big that wave is going to be."
Abbott said 42,922 Texans have been tested for COVID-19, with 3,266 positive results and 41 deaths. There's at least one case in 122 of Texas' 254 counties.
As of Tuesday, coronavirus patients are utilizing a little over two percent of available hospital beds statewide.
RELATED LINKS:
Texas Workforce Commission working to improve system as unemployment claims spike
Track Texas coronavirus cases by county with this interactive map