Funeral held for Dallas PD Officer Mitchell Penton who was killed by drunken driver
DALLAS - A Dallas police officer was remembered Monday morning following his death in the line of duty.
Family and friends gathered at Prestonwood Baptist Church in Plano to pay their respects to Officer Mitchell Penton.
The 27-year-old officer was killed last week while working at the scene of an accident on Highway 75 near Walnut Hill Lane.
Police said a drunken driver slammed into a patrol car, pushing that vehicle into Penton.
The suspect, 32-year-old Phillip Mabry, was not hurt and later arrested at the scene. He is charged with intoxication manslaughter leading to the death of a peace officer.
RELATED: Man charged with intoxication manslaughter for crash that killed Dallas PD officer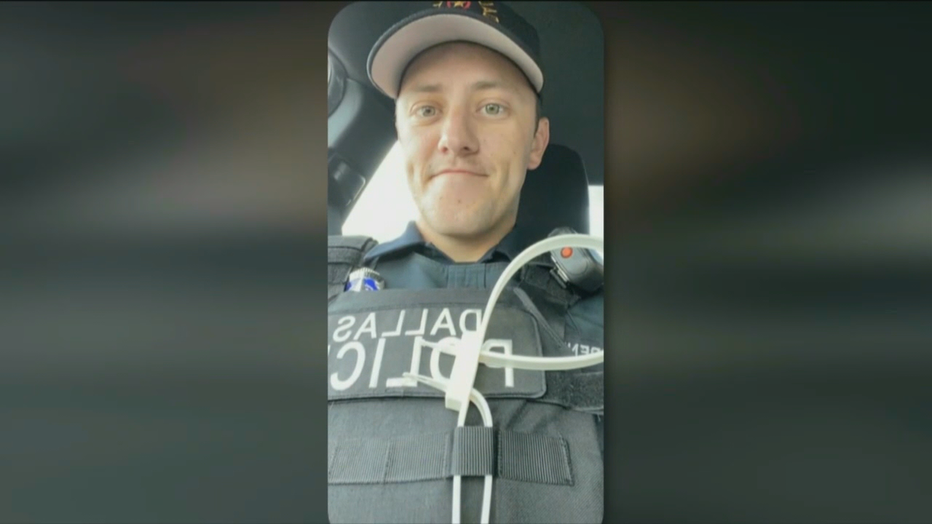 DPD Officer Mitchell Penton
A video presentation during the funeral highlighted the memories and milestones of Penton's short life. His dear friends and colleagues spoke of a selfless servant.
"When I think of Mitchell I think of how much he loved to be a helper. He was so excited when he was accepted into the police academy because helping others was what God had called him to do," said Kaitlyn Miller, Officer Penton's friend.
Chief Eddie Garcia said his duty and sacrifice will never be forgotten.
"We've mentioned often it isn't so much how he died but how he lived that matters most," Chief Garcia said. "Mitchell embodied all that it takes to wear this uniform, to wear this patch, to answer this call and more."
Officer Penton leaves behind a wife with a child on the way.
RELATED: Candlelight vigil held to honor Dallas PD officer killed by drunk driver