El Paso County to begin busing migrants to Dallas
DALLAS - Dallas and other large cities are preparing for busloads of illegal border crossers to arrive as early as next week.
El Paso is anticipating even greater numbers of migrants to cross the border when Title 42 expires.
The program allows border agents to expel migrants more quickly under public health rules.
El Paso plans to transfer asylum seekers to cities, like Dallas, where large airports are available.
El Paso Mayor Oscar Leeser says the record number of migrants that continue to come into his city through the southern border is unsustainable.
"We have a crisis on our hands," Leeser said. "Funding and shelter is not the answer, it's a band-aid to really a bigger problem."
El Paso's deputy city manager, Mario D'Agostino, says Border Patrol agents have apprehended some 2,500 migrants each day over the past week alone. That number does not account for the ones who got away.
Officials fear that number will soar when Title 42, a health order implemented during the pandemic that allows Border Patrol agents to expel migrants without giving them a chance to apply for asylum, expires on December 21.
"Just talking to them, they're not wanting to stay in this region," D'Agostino explained.
D'Agostino says most of the migrants have plans to move on from El Paso, and even out of Texas.
"Getting them to that next point so we can process them here, get them their travel arrangements out of a greater hub," he added.
So the plan is to bus the migrants from El Paso to major U.S. cities, like Dallas, where there are large airports with more flight options.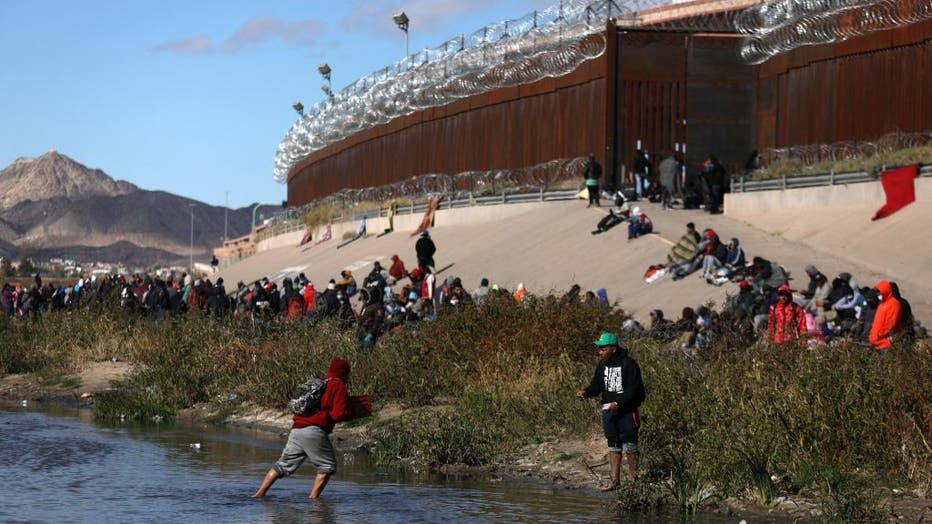 TOPSHOT - Migrants walk across the Rio Grande to surrender to US Border Patrol agents in El Paso, Texas, as seen from Ciudad Juarez, Chihuahua state, Mexico, on December 13, 2022. (Photo by Herika Martinez / AFP) (Photo by HERIKA MARTINEZ/AFP via Get
RELATED: Concerns raised about number of border crossings in Texas as Title 42 set to end next week
Dallas County Judge Clay Jenkins told FOX 4 that no taxpayer dollars will be used in this endeavor.
Instead, local charities and nonprofits will step up to assist the migrants with temporary housing and transportation to the airport.
The first buses could arrive as soon as next week.
Dr. Andy Stoker, with the Thanksgiving Foundation, says the migrant status task force for Faith Forward Dallas, which is made up of clergy and laypeople, will help facilitate the arrival of buses at Oak Lawn United Methodist Church next week.
"And this task force focuses on welcoming neighbors and making sure that their journey is well cared for," Stoker explained. "Get checked in and then find a place to rest."
Stoker says the church needs backpacks and winter clothes for the migrants to take with them on their journey beyond Dallas.
Anyone who wants to donate supplies can drop it off at Oak Lawn United Methodist Church.
Other nonprofits, like the Catholic Charities, will help with rides to the airport.
"This is a very short stay for our neighbors. This is a very quick stay," Stoker said.
Taxpayers won't be paying for the airline tickets.
El Paso's mayor says most of the migrants have family members who are helping them financially.
"This is bigger than just El Paso," Leeser said.
In a statement, Dallas Mayor Eric Johnson said, in part: "Dallas is a welcoming city, and we are willing to do our part in a humanitarian crisis when it makes sense for us to be involved."
But he also added that immigration is a federal matter.