Duncanville High School forced to forfeit final girls' basketball game due to ongoing investigation
DUNCANVILLE, Texas - There is more trouble for the Duncanville High School girls' basketball program, which was already banned by the UIL from participating in the playoffs.
Duncanville ISD has now suspended the girls' coaching staff and the former head coach, who was already suspended by the UIL last year but retained by the district as an employee in another role.
The district says the former head coach may have violated her suspension.
Duncanville High School forced to forfeit final girls' basketball game due to ongoing investigation
The Duncanville girls' basketball team had a perfect 12-0 record in district play before Duncanville ISD forced the team to forfeit its Tuesday night game against Skyline High School.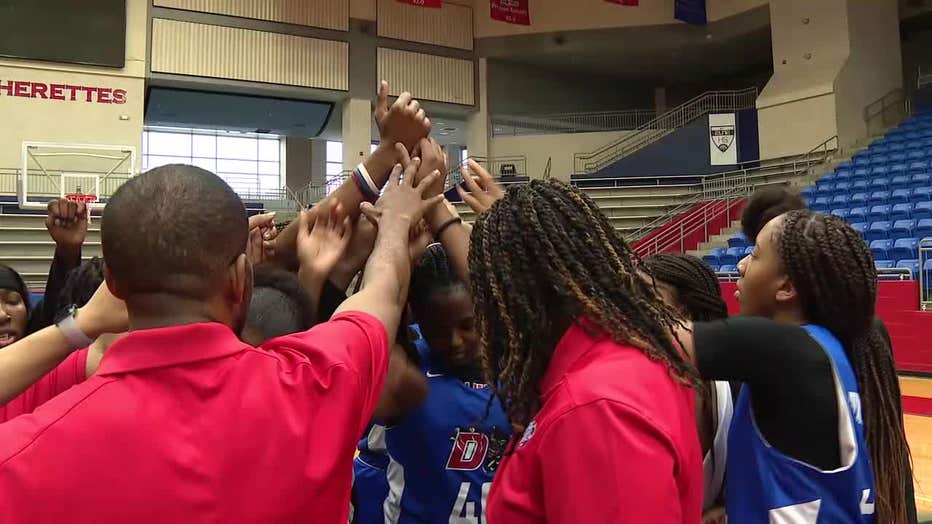 But they weren't going to the playoffs anyway. Last October, the UIL banned the program from the postseason and put it on probation for three years. The UIL found it violated recruiting rules and practice restrictions.
Now the district, on its own, is alleging there are new allegations.
Duncanville ISD suspended the entire girls' basketball coaching staff and former head coach LaJeanna Howard with pay.
In a statement, Duncanville ISD Superintendent Marc Smith said, "I recently became aware of allegations regarding the Duncanville High School girls' basketball coaches. I and the district's administration take these allegations seriously. When we learned about the allegations, the district immediately began an investigation."
Duncanville ISD refused to give any details about its investigation other than saying Howard potentially violated her one-year suspension by the UIL.
The district did not fire Howard when the UIL punished her last October but rather gave her another position in the district while she served her suspension.
The girls team ranked eleventh in the country is not the only Duncanville team suspended from post-season play. 
The boys' basketball team currently ranked third in the nation has a self-imposed district ban from the playoffs following another UIL investigation.
However, the UIL did force the team to forfeit all games from the 2021-2022 season and give up their 2022 6A State Championship because they played with an ineligible player.
The UIL suspended the boys' head coach David Peavy for a year, but the district also retained Peavy as an employee, giving him another position in the district.
Duncanville HS stripped of 2022 state basketball championship due to rules violations
The new girls' program investigation comes after the district last November also created a new compliance officer position for that employee to make sure the athletic programs follow UIL rules.
FOX 4 reached out to the UIL for more information but did not get a response. 
As for the girls' basketball team investigation, Duncanville ISD said it could not provide any additional information.