Duncanville High School girls' basketball coaching staff placed on paid leave over new allegations
DUNCANVILLE, Texas - An investigation has been opened into Duncanville High School girls basketball coach LaJeanna Howard, the district announced on Tuesday.
Howard allegedly violated her UIL suspension and written directives from Duncanville ISD.
The varsity girls' basketball coaching staff, including Howard has been placed on paid administrative leave.
Tuesday night's girls basketball game against Skyline High was canceled as a result of the latest allegations.
"The District is taking swift and decisive steps to address the allegations. If the result of the investigation reveals any wrongdoing by the Girls' basketball coaches, Duncanville ISD will immediately self-report those issues to the UIL and institute strong corrective action," said Duncanville ISD Superintendent Dr. Marc Smith in a statement.
The district did not release any details about the recent allegations.
In October 2022, Howard was suspended for a year after holding having an open gym tryout back in August, two months before practices are allowed to start.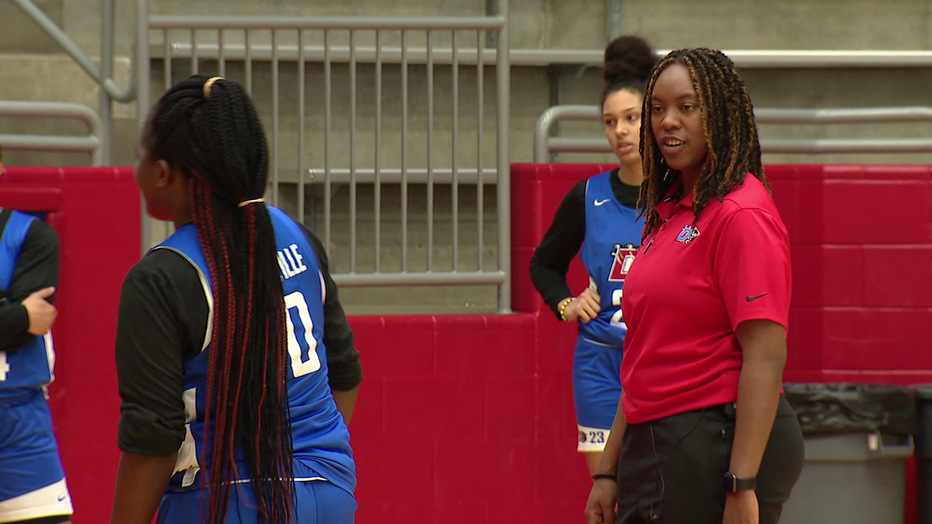 Howard was reassigned to another job within the district.
The Duncanville girls team was suspended from this year's playoffs by the UIL for violating recruiting rules and practice restrictions.
The Panthers boys basketball team was also punished last year.
The UIL ruled that Duncanville's boys team had to forfeit all games from the 2021-2022 season in which the team played an ineligible player.
That includes all postseason games and the 2022 Conference 6A State Championship. 
READ MORE: Duncanville HS stripped of 2022 state basketball championship due to rules violations
Head coach David Peavy was also suspended for a year.
In addition to the UIL punishment, the boys team opted out of the playoffs for this season.