DFW Airport, Love Field working to clear runways for Friday flights
DALLAS - For the second day in a row, DFW Airport has the most amount of cancellations in the country, but compared to Thursday, things are going way better at Dallas Love Field and DFW Airport.
About 850 of all flights in and out of DFW were canceled for Friday. Most are American Airlines flights.
But there is some hope for travelers. Three of the airport's seven runways have been cleared of ice and are now open.
DFW Airport said crews are still clearing other runways, as well as taxiways.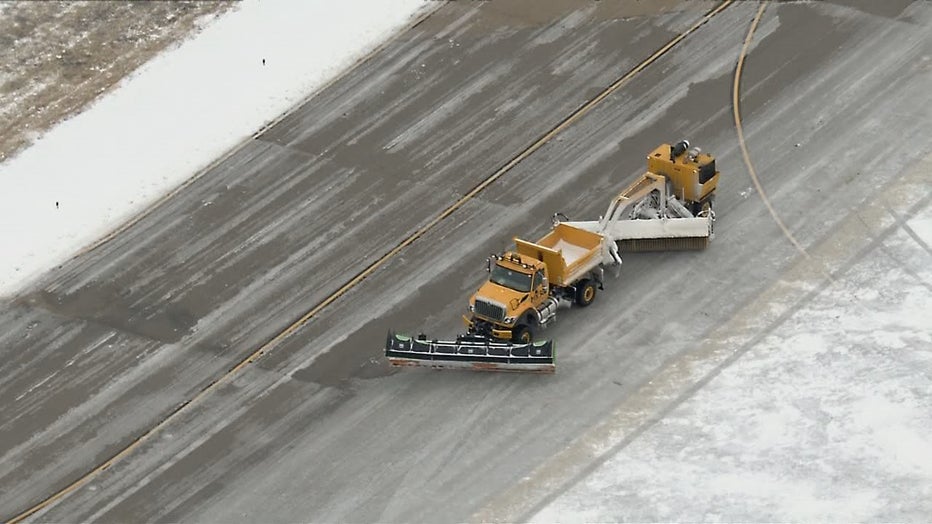 Runway and taxiway areas are open at Dallas Love Field, but Southwest Airlines preemptively canceled all its flights into and out of Love Field on Thursday.
About 10% of flights at the airport were canceled Friday.
Both airports are encouraging travelers to check their flight status before risking a drive to the airport. 
RELATED: Southwest, American Airlines cancel flights because of Texas winter storm
It was nowhere near normal, like there are cots put out for stranded travelers. 
At first glance, it may look like people are staying warm inside of a shelter, but they're actually airline passengers stranded at Dallas Love Field.
"This was the only way we could get out tomorrow, so we got an Uber and spent the night. It's been an adventure," Kelly Botta said.
The airport set up cots in an upstairs waiting area so passengers could try and get some rest until takeoff, whenever that ended up being.
"This is my first time flying and we knew the risks," Reyah Griffin said. "We thought we would make it. We almost did, but didn't."
At DFW Airport, the line at a security checkpoint inside Terminal A extended all the way to the baggage claim.
There weren't enough TSA agents on duty to keep up with passenger demand.