Demonstrators push for Arlington PD changes following unarmed teen's death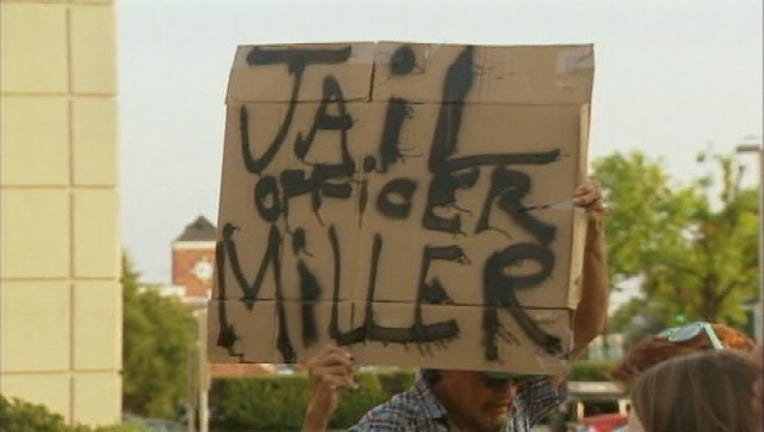 article
Outside of the Arlington Police Department, demonstrators gathered once again on Tuesday night, asking for more from the police department.
The protest came after rookie Arlington Officer Brad Miller was terminated by Arlington police on Tuesday for failing to follow departmental policy and poor judgment that resulted in the fatal shooting of unarmed teen suspect Christian Taylor.
Arlington Police Chief Will Johnson said the facts of the case will be presented to a Tarrant County grand jury, who will determine whether Miller is charged with a crime.
Speakers at Tuesday night's demonstration said firing the officer wouldn't go far enough, and they're calling for immediate criminal charges and an overhaul of the department itself.  
The protest was planned ahead of the police chief's announcement about Miller's firing.
Still many here wanted to see immediate criminal charges and an arrest of the now former police rookie.  
Taylor's older brother was at the protest. He and his family declined comment.
But here's what the brother's friends and former classmates had to say.

"As far as discipline and all that, I don't really…I can't say on that," said Tre Lewis, one of Taylor's friends. "Whatever they did to the cop is what they did, but he still has his life. He's still breathing, still can go with his friends or anything like that." 
 
For a short time, there was a small counter-protest on Tuesday night.
  
Two men stood with signs that said "ALL LIVES MATTER – CRIMINALS LIVES MATTER LESS!"
Both of the counter-protestors say they are from Arlington. One of them, Gene Boyd, says he disagrees with the firing of Miller.  
"You know, all lives matter," he said. "Criminals' lives don't matter to me as much. If they, you know, if they're out committing a crime, they get shot, like I said, I don't shed a tear for those people."
Arlington police says the department has welcomed the protests that are critical of the department.
Chief Johnson spoke during a meeting of the Arlington chapter of the NAACP on Tuesday night.
There, he called Tuesday's decision a tragedy and he called this investigation the most difficult days of his life.
The meeting was held at New Life Fellowship in Arlington.
About 100 people showed up to the regularly-scheduled monthly meeting. The chief is a member, so he normally attends and addresses attendees.
The meeting was advertised on Facebook as open to the public, but when FOX 4 arrived, we were told cameras were not allowed, and we could not ask questions.
The chief arrived for the 6:30 p.m. meeting declining any questions, and just giving a quick nod to reporters.
He was met inside by a pretty friendly crowd. People shook his hand and welcomed him.
The chief made some brief remarks and then opened it up to about an hour of questions and answers.
It seems most people were pleased by the termination, and the chief acknowledging that officers made mistakes.
Alisa Simmons, the NAACP Arlington chapter president, described the chief's actions today as "doing the right thing"
"So far, so good," she said. "The department has been transparent. We appreciate the chief for that and the detectives. We look forward to the criminal process. This is not over in our eyes. We are glad that the decision that has been made today has been made and we hope that his offers some comfort to the family."
 
The chief was actually applauded when he said the video shows Taylor was doing something wrong, committing a felony. But he says that did not mean the officer was authorized to use deadly force.
He went on to say everyone should be treated with dignity and respect.
Another big question that came out of Tuesday night's meeting was what will the department do differently moving forward to make sure this doesn't happen again?
The NAACP chapter president says they still don't have all of those answers, but for now there is confidence in the process and hope that other safeguards will be put in place.