Deaths, positive cases grow amid COVID-19 outbreak at Dallas County nursing facilities
DALLAS - A nursing facility in Richardson is the latest in Dallas County dealing with a potential positive case of COVID-19 coronavirus as another person died and the number of cases grew at other locations.
The Reserve at Richardson said the patient is conditionally positive, but the final results are not in yet. It would be the fourth Dallas County nursing home dealing with the virus. A second patient at the Edgemere Senior Living Center died on Monday and the Skyline Nursing Center saw 10 new cases.
There are two clusters of virus cases at senior care facilities, according to officials.
Three patients and a staff member tested positive at Edgemere in Dallas. Two of those patients have died, county officials said Monday.
In a statement, administrators there said they have "activated an emergency response team" and they're working with authorities "to take all appropriate steps to control the spread of COVID-19."
RELATED: Coronavirus coverage
"Skyline looks like it going to be really bad, as far as the number of people," Dallas County Judge Clay Jenkins said during a Monday press conference.
Ten more residents tested positive at Skyline Nursing Center in West Oak Cliff on Monday, for a total of 14 cases at the facility.
"We have isolated the risk, but we must be aggressive with our efforts," administrators said in a statement, adding that they're isolating all residents in the area believed to be affected.
At the second cluster at Edgemere Senior Living Center in Dallas reported four cases on Sunday. Two of those patients died, including an 80-year-old woman. The county did not release any information on the other fatality, only saying it was a resident. The other patients are a resident and an Edgemere employee.
The Reserve said transmission may have happened despite precautionary effort. The patient has been tested and discharged to a local hospital. No information was given about the person's age, gender or if they had pre-existing health conditions.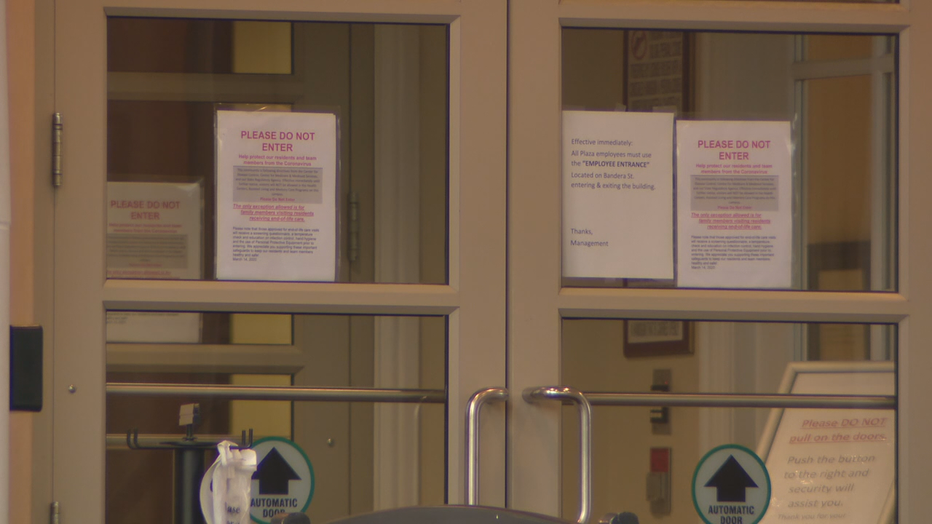 The facility is under complete quarantine with only essential medical personnel inside.
The newest cases in the county among the most vulnerable population has authorities tightening rules and some questioning if bringing elderly relatives home is the best option.
A third facility, Monticello West, has a positive case but is not believed to be a cluster.
"When people are in these settings, it is hard to keep this spread from happening very quickly," Jenkins said.
New orders are in place at all four nursing homes. Workers must wear PPE during all shifts. Each facility must notify the county within six hours of a new confirmed case. Facilities must also screen employees by taking temperatures before all shifts. Employees must do the same before coming to work.
"The good news is we don't have new cases," Jenkins said. "Unfortunately at Skyline, we now have 10 additional cases. That brings the total to 14, so that is very concerning."
When reporting on the senior living center cases, Judge Jenkins suggested that families may want to think about bringing their loved one's home. But medical experts say doing that comes with a risk.
Dr. Sarah Ross, UNT Health Science Center — Center for Geriatrics, spoke about what families should consider.
"The first question would be do you have the support system and the skill set the resources to recreate the care that the individual would need in a home setting," Ross said.
Ross says for all families considering moving a loved one, the decision is an individual one.
"My words of advice would be not to let anyone make you feel bad or guilty one way or another because the decision is for you to make and your family to make based on what is best for your loved one," Ross said.
Dr. Nick Karr, CEO of Sinai Urgent Care, says it's a personal decision.
"Everything I've been seeing from CMS, which is the organization that oversees nursing facilities, the CDC and even looked at AARP website this morning, and it seemed pretty consistent that that's not a great idea," Karr said. "One of the things we know about COVID-19, besides the fact that it affects the elderly population the most, is that in a lot of circumstances the patient has the virus and is actively shedding the virus while they have no symptoms or before they start showing symptoms. So you might bring your mother, father, loved one home and not realize they have the virus and low and behold they have the virus and they've exposed other individuals in the home to COVID."
Dr. Karr says there's other important factors to think about.
"You have to consider what impact is it going to have taking them out of their normal routine, especially when there's things like dementia involved," he said. "You get patients out of their routine, and that can be pretty disruptive."
If you do decide to bring a relative home from a nursing facility, Dr. Karr recommends keeping them secluded for their health and whoever else is also staying at the house.      
"Quarantine them if that even means a room in the house. Do the things we know are important," he said. "Minimizing contact with loved ones. Good hand hygiene. Washing hands. Changing clothing often if you're coming into contact with them for a 14-day period so we can be relatively sure they don't have it."
Dr. Karr says if you do decide to bring a loved one home, make sure you have all of the medicine they'll need and proper dosing ahead of time. He says the nursing facilities will likely be very busy handling other matters if you try to follow up after.
RELATED LINKS:
Dallas County reports clusters of COVID-19 cases at nursing homes
Track Texas coronavirus cases by county with this interactive map