Dallas Zoo says two recent giraffe deaths likely connected to toxin
DALLAS - Two of the three recent giraffe deaths at the Dallas Zoo may have been connected to a toxin that the animals were somehow exposed to, zoo officials said.
The Dallas Zoo's 14-year-old giraffe, Jesse, died Friday after reportedly battling an aggressive illness for less than a week.
RELATED: Dallas Zoo reports 3rd giraffe death this month
He had some of the same symptoms and abnormally high liver enzymes as 19-year-old Auggie, who died a week earlier. 
RELATED: Dallas Zoo mourning 19-year-old giraffe's death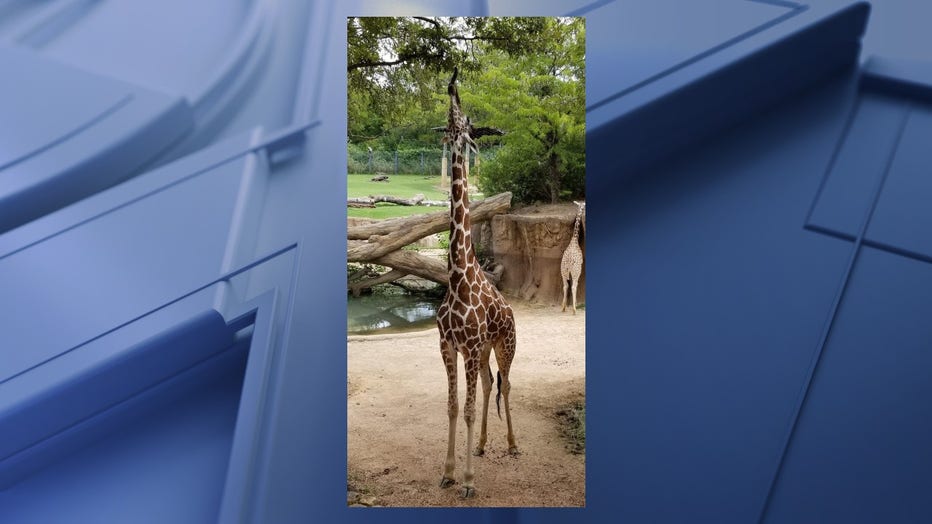 While the zoo suspects the two deaths are connected, it is still working to confirm that through lab tests on bloodwork and tissue samples.
"The necropsy results from both giraffes pointed to liver damage, which is leading us to focus on the possibility that they were exposed to a toxin of some sort, either through a food source, in the exhibit space, or introduced via a foreign object. We also are testing for Zoonotic diseases, including encephalomyocarditis (EMC). With the help of outside experts from across the country, we are and will continue working through lab test results on blood, tissue, food, plants, and other items, in an effort to identify the cause, while also working to eliminate possibilities," the Dallas Zoo said in a statement.
The zoo said even before Jesse passed away it began taking steps to try to find and eliminate the source of the toxin including replacing food supplies, limiting the giraffe movements and access to parts of the habitat and conducting regular blood draws.
"We know it's difficult to hear about these losses. We hope explanations and openness like this help you trust that no one cares more for these animals or grieves more over the losses than the animal care and veterinary teams here at the Zoo. We will keep you updated as we continue to work through this evolving situation," the Dallas Zoo said.
Outside experts are assisting the zoo in their investigation.
The six remaining giraffes are now under constant observation. They're being monitored for signs of illness and getting regular blood tests to see if anything shows up.
The team threw out all of the food they were getting and brought in fresh food. 
The zoo says it's receiving help from experts across the country.
The zoo was also forced to euthanize a 3-month-old giraffe calf in early October after she sustained a catastrophic injury. Her death is unrelated to the two recent deaths.
RELATED: Dallas Zoo euthanizes 3-month-old giraffe after 'catastrophic injury'