Dallas warns it could close all parks, trails if people don't practice social distancing
DALLAS - Overcrowding in Dallas parks and on some trails could lead to some changes in what's allowed under the stay-at-home orders.
Under the Dallas County stay-at-home order, people can still step outside and get some fresh air or exercise as long as they remember to practice social distancing and stay 6 feet away from others.
But not everyone is following that rule.
"There's a lot of people, more people than I've seen in recent memory," said Adam and Becky Senderling, Dallas County residents who were out walking.
Dallas Park and Recreation officials said overcrowding especially on the Katy Trail and on the White Rock Lake loop may lead to the closing of city's parks and trails.
"I mean I'll be sad just because we use it daily and we used it before when we were both working and stuff so it's sad but I mean I understand it, like I said even when I'm walking someone will come right up behind you," said Lauren Hook.
For now, park officials are working on getting people to voluntarily comply with social distancing guidelines. Barricades were put up at White Rock Lake entrances to keep people at a distance and basketball goals could be soon coming down in some parks.
"We will be making some changes. You'll see basketball goals coming down, which breaks my heart as a basketball guy. It oughta be the kids should be able to shoot some hoops if they just stay away from each other but that's not going to happen now because people are violating the order," said Dallas County Judge Clay Jenkins.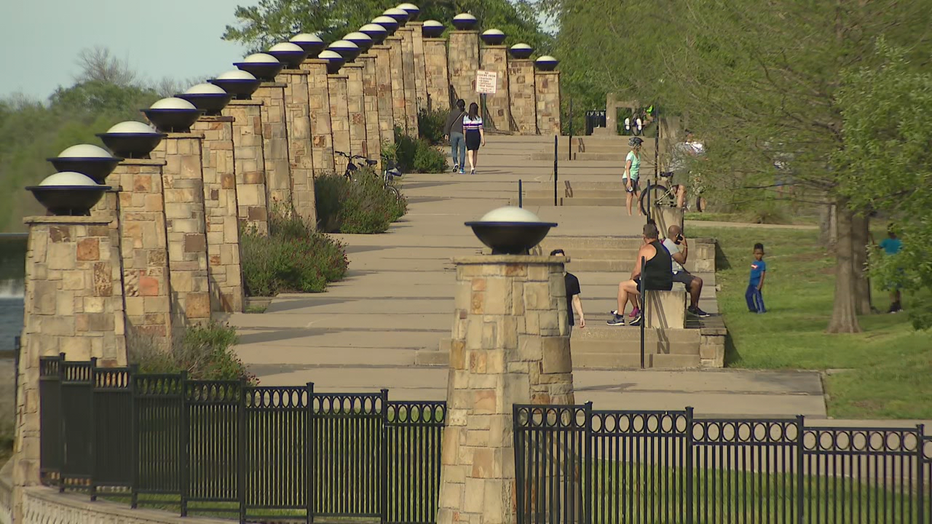 Jenkins said police will start issuing tickets to those not following social distancing practices and if that doesn't work, parks and trails might close altogether.
"You'll see us move from a posture of friendliness, and we'll always be friendly. We have great officers here. You will see some ticketing enforcement happen in situations like that. And you'll just see us have to continue to ramp up," he said.
Jenkins tweeted out a reminder on Saturday after seeing that the trail at White Rock lake was too crowded.
"@whiterockloop is too crowded today! This is not safe social distancing. Social distancing means physical separation of 6ft. If your biking jogging are walking on a 12' trail, breathing the droplets of hundreds of people going in the opposite direction you're not being safe," he tweeted.
RELATED: Coronavirus coverage
"If they're going to utilize our parks and trails, they have to practice social distancing. It's important, not just for themselves, but also for the other patrons in the park alongside of them," said John Jenkins, interim director for Dallas Parks and Recreation Department.
Last week, the Katy Trail challenged people to seek other trails because of the amount of people on the trail is not allowing for social distancing.
Dallas has 397 parks and more than 158 miles of hiking and biking trails that people can explore.
Jenkins said the county has also gotten complaints about people hanging out in stores like Home Depot or grocery stores but not buying anything. He said those who are doing it are putting workers at risk.
"It's like my mama used to say. A few of you can screw it up for the rest of us. It's a few. I'm seeing good compliance from most people but not so good at these parks," he warned.