2 Dallas firefighters hurt at senior living facility fire in Far East Dallas
DALLAS - A five-alarm fire at a Dallas senior care facility injured two firefighters and left dozens of residents homeless.
The call came into Dallas Fire-Rescue just after 6:30 p.m. Thursday for a fire at the Lakeland Hills Senior Living Facility in Far East Dallas. The two-alarm fire quickly grew to a five-alarm fire with more than 120 firefighters helping.
DFR says the two firefighters suffered non-life-threatening injuries and are expected to be okay. No residents were hurt in the fire.
Firefighters had to cut a fence to get better access for their hoses. Crews were still working to get engines in a better position to attack the fire.
The flames actually seemed to die down at one point before kicking up again.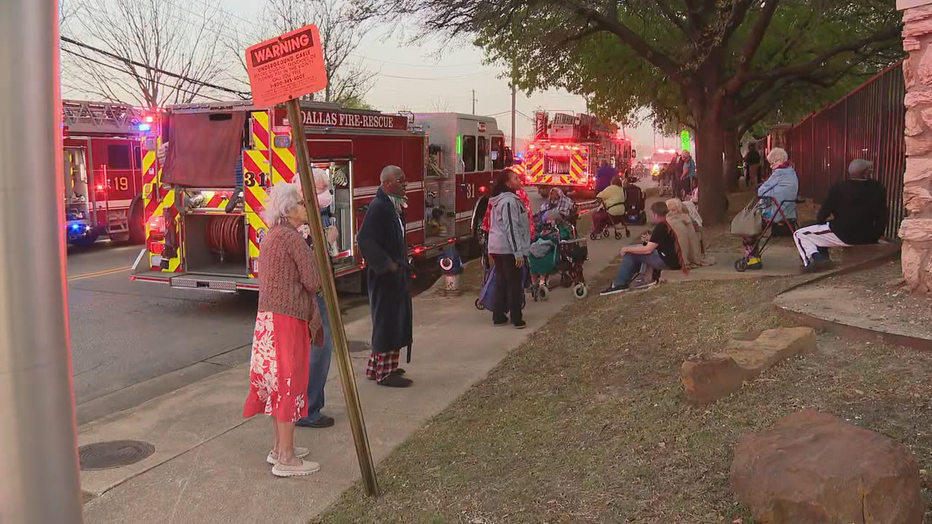 It's been a massive effort to help the residents.
Some residents at the senior living facility have mobility limitations and use wheelchairs and walkers. Firefighters have been helping them over hose lines and over uneven surfaces. 
The smoke has made it difficult for residents as well. 
Some residents had to be helped into some ambulances, although it did not appear to be injuries directly from the fire. 
"It was just basically saying to myself, 'Gwen, you better get out of here because this isn't looking good.' Because the smoke kept getting worse and worse and worse," said resident Gwenn Woodard.
"And heard the smoke alarms to off and the fire doors close," recalled resident Debra Burkes. "And then the manager came down and told everybody to get out, get out, get out. And so we started evacuating."
The cause of the fire is still under investigation.
READ MORE: Tornado threatens firefighters battling wooden pallet fire