Dallas Pride 2021 replaces parade with in-person variety shows
DALLAS - June 1 marks the start of Gay Pride Month to support the LGBTQ community. But there will be a change to this year's Dallas Pride event because of the pandemic and the weather.
Plans were already set for the 2021 Dallas Pride event to feature in-person variety shows rather than the usual parade and festival. 
"We decided to scale it back it year and come back in 2022 with our full scale celebration and throw a big party," said Jaron Turnbow, the event director. 
The focal point of the celebrations will be the two nights on shows.
"We have all kinds of local talent from the Metroplex. We wanted to make sure we supported our local LGBTQ talent and have them perform for us," Turnbow said.
Now because of possible rain this weekend, the events will be inside at the Coliseum at Fair Park. Previously the shows to support the LGBT community were planned for the outdoor Band Shell.
For those not comfortable being inside just yet because of the pandemic, Turnbow said there is an option to still participate with a live stream.
"We know not everyone is able to make it to the event or feels comfortable being in-person yet so we wanted to give everybody an option. So if you don't feel comfortable you can sit at home and watch or wherever you are going to be at. If you want to go out and have fun and be in person, that's fine too," he said.
The musical and variety shows are happening Friday and Saturday night.
City recognition
For the first time in the city's history, pride flags fly high at Dallas Love Field and Dallas Police Headquarters.
"We are an inclusive department and this is one small sign of showing that inclusiveness and diversity," said DPD Chief Eddie Garcia.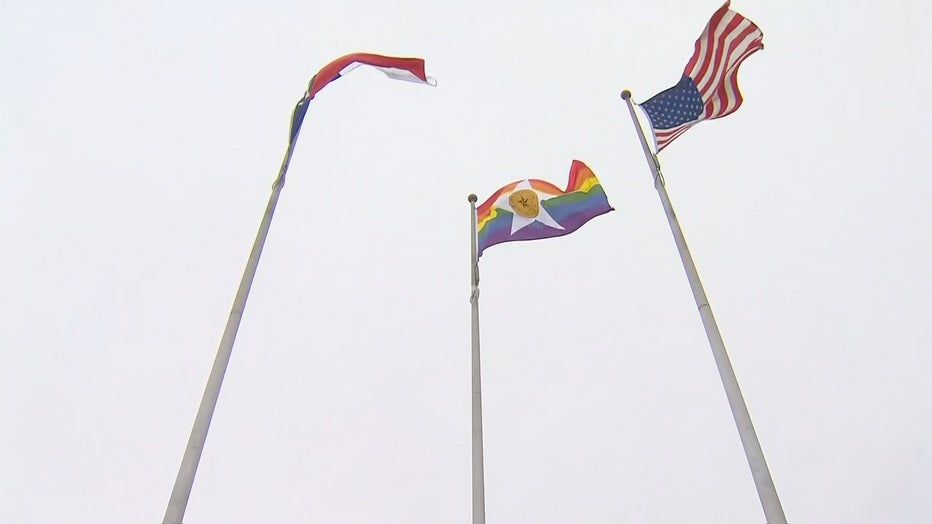 In May, the Dallas City Council amended a resolution that allows city facilities to fly the Pride flag during the month of June.
"At Love Field we consider ourselves the front door of Dallas and we always try to make a great first impression with our visitors," said Mark Duebner, Director of Aviation.
Cedar Springs
Tuesday's in-person events were a stark contrast to last year when Dallas Pride 2020 was all but canceled due to COVID-19. Bars and clubs in Oak Lawn were shuttered for nearly a year.
Even though the traditional Dallas Pride event isn't being held here in the Oak Lawn neighborhood of Dallas, bars and restaurants along Cedar Springs expect to do big business thanks in part to other Pride events scheduled.
"A lot of people are going to come out to either place. There's a lot of events going on here this weekend. It's going to be great wherever you go," said Tanner Roberts, GM, Cedar Springs Tap House.
A three-day outdoor "mini-fest" featuring live music and entertainment kicks off on Friday. Roberts expects that event to draw customers into his doors.
"Events are picking back up, people are showing up in droves. It's getting better," Roberts said. "Everyone is ready to get back to the way things were."
LINK: dallaspride.org