Dallas police release video of deadly shootout with murder suspect
DALLAS - Dallas police released new information and body camera footage on Friday afternoon of a shootout that sent an officer to the hospital and killed a capital murder suspect on Wednesday.
Dallas police chief Eddie Garcia said his officers feared for their lives at a news conference on Friday.
"We don't want this outcome, but unfortunately suspect Fraire's decision to fire upon police officers is what lead to this ultimate outcome," Garcia said.
The suspect, 18-year-old Joey Fraire, was a capital murder suspect in a Farmers Branch home invasion.
The Fugitive Unit was in the 2500 block of Wilbur Street at about 12:30 when a wanted persons bulletin came through, warning that a Farmers Branch capital murder suspect was on the same block.
The six-man fugitive task force followed the car for about an hour to the Bahama Glen Apartments.
A drone was sent up and officers tried to take Fraire into custody without friction.
At 3:01 officers used a flash bang and fired pepper ball rounds trying to get the teenager to come out of the car.
"At 3:02 p.m. a sergeant monitoring video from the drone operation announced over the radio that Fraire had a gun in his right hand. Also at 3:02 a second flash bang was deployed and Fraire is seen with his gun and fires at Dallas police officers at least twice, the officers return fire, hitting the suspect multiple times," said Garcia. 
DPD says the 6 officers fired approximately 57 shots at Fraire. He was hit multiple times.
Officer Joshua Gonzalez was hit in the foot by one of the rounds from Fraire's gun, fellow officer gave him medical attention.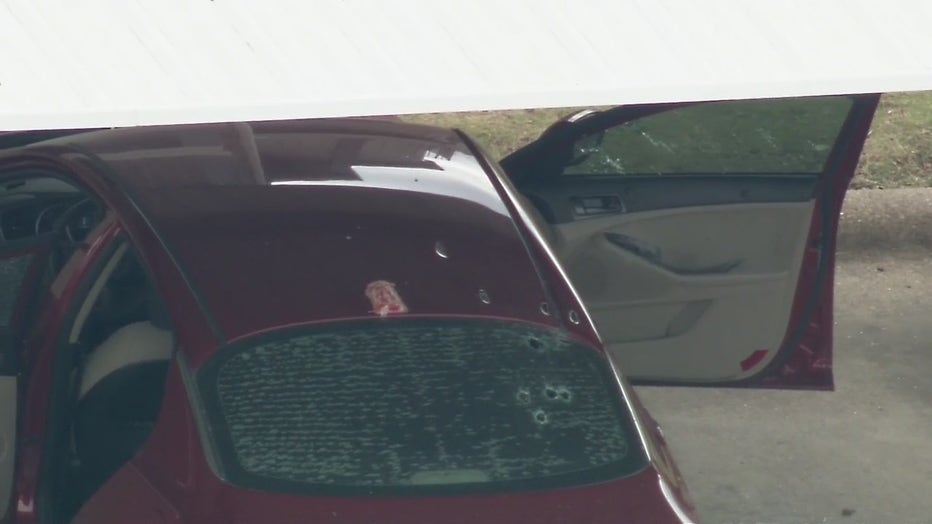 Five minutes into the critical incident, 3:07, police try life-saving measures on Joey Fraire until paramedics arrived at 3:18.
Chief Garcia was asked if 57 rounds from six officers was overkill.
"We had an individual that was involved in captial murder, that was involved in the murder of an innocent resident in the city of Farmers Branch, who was given every opportunity to surrender peacefully," he said. "This individual then decides to shoot at police officers. A wanted murder suspect shoots at police officers." 
READ MORE: Police identify gunman killed in shootout with Dallas officers
The six officers who opened fire have been placed on administrative leave, per department protocols.
Fraire was pronounced dead at the hospital.
Officer Gonzalez is expected to be okay.
2 guns were found inside of car, according to police. One of those guns had an illegal 'glock switch' on it, which makes the glock 9mm shoot like an automatic weapon.
It was the first officer-involved shooting for the Dallas Police Department in 2023.