Police identify gunman killed in shootout with Dallas officers
DALLAS - The Dallas Police Department has released the name of the gunman killed in Wednesday's shootout with police, along with the condition of the officer who was wounded.
The shooting happened at an apartment complex on Bahama Drive in West Oak Cliff.
READ MORE: Dallas police officer injured, murder suspect killed in apartment complex shootout
Officers were trying to serve a capital murder warrant for 18-year-old Joey Fraire, who police said is one of several men wanted for an October murder out of Farmers Branch. They found him in a car.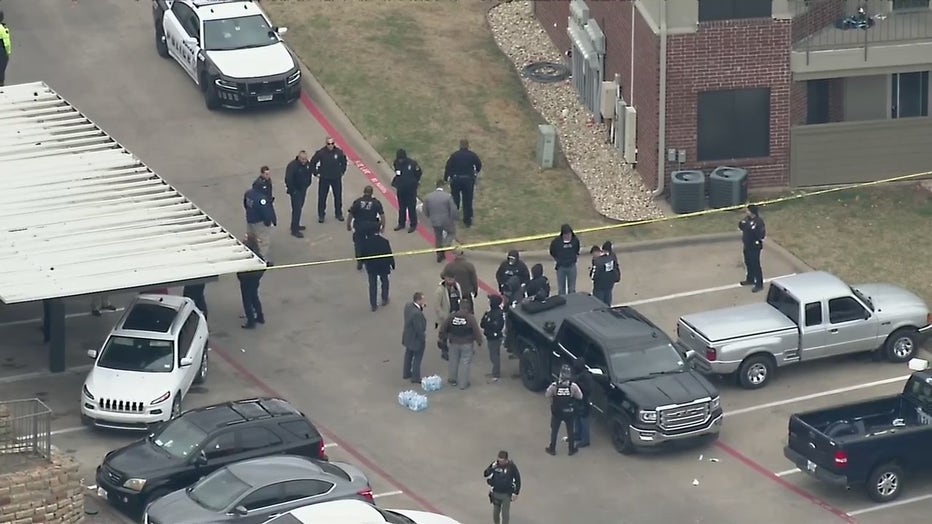 Police said the driver of the car got out as ordered, but Friaire fired shots and police returned fire. 
An officer was shot in the foot and has been treated and released from the hospital.
Fraire was pronounced dead at the hospital.
No further details about the police shooting have been released at this time, but Farmers Branch police and court documents reveal in detail a robbery plot that ended with the murder of a father in his own home.
Dallas police will release body camera video from the officer-involved shooting that killed Fraire on Friday. 
Farmers Branch police confirmed to FOX 4 that Fraire was a suspect in a murder case from last October.
The victim, Ramon Lemus Zapata, was killed at an apartment on Heritage Circle, thought the target was his son, according to court documents.
An arrest warrant affidavit said 20-year-old Antoni Jose Arias and 19-year-old Manuel Alexander Ramos were arrested earlier this month, with both being charged with capital murder by terror threat.
Court documents said four people were seen on Ring doorbell video kicking in the apartment door. 
Investigators said the killers were wearing hoodies, gloves, and masks. Two of them had guns.
One of the suspects told the victim's wife to give them their belongings.
The court documents said three of the four suspects left the apartment and the victim's wife followed them out, trying to record video of them.
The victim, Zapata, grabbed a BB gun and was confronted by the fourth suspect, who shot and killed him. 
Days after the murder, Ramos was arrested by Dallas police. Officers reportedly recovered a gun and magazine from his car.
Court documents said that when Ramos bonded out of jail, he messaged someone on Instagram saying you left "your clip in the back of my car."
The day after the October murder, one of the suspects sent Faire a picture of what appeared to be a gun, according to the court records. 
About a week after the murder, court documents said Faire sent a picture to one of the suspects. 
The picture showed someone "fanning out a large amount of money in a room with the Instagram handle" of the murder victim's son.